Test of Einstein's Theory of Gravity Hits a Snag
Test of Einstein's Theory of Gravity Hits a Snag
Stanford University/Gravity Probe B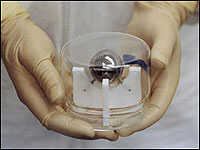 Stanford University/Gravity Probe B
More on Gravity Probe B:
It has been more than 90 years since Einstein put forward his theory of relativity. Physicists agree it is basically right, but they also suspect there is something deeper behind it.
Since the 1960s, scientists funded by NASA have been working on a project to precisely test Einstein's theory. The experiment, called Gravity Probe B, finally made it to orbit a few years ago, at a total cost of $750 million. The researchers gave a progress report at a conference in Florida last weekend, and said they have run into some snags.
Back in 1959, physicist George Pugh published a paper outlining a way to test Einstein's theory of general relativity of gravity. It said that gravity was not just some magical, invisible tugging: Gravity was the result of objects actually warping the space around them — imagine a bowling ball sitting on a trampoline.
Heavy objects could also drag space around with them, and Pugh suggested looking for this effect around the Earth as it spins.
To test this, Pugh decided to send gyroscopes into orbit. A spinning gyroscope always points in the same direction. So if a gyroscope moves, that means space itself is shifting. Einstein's theory predicted a very small shift. Any deviation could mean a crack in relativity — a clue to something beyond it. For the experiment to work, the gyroscopes would have to be extraordinarily sensitive.
Scientists began to work on Pugh's idea but ran into a string of difficulties. The project was killed, resurrected and killed again. Finally after 40 years of work, the satellite was launched in 2004. On board were four super-precise gyroscopes — each with a spinning sphere the size of a ping-pong ball.
Over a year, the team hoped to be able to detect tiny shifts in the gyroscopes. For the experiment to be counted as a success, it had to make very precise measurements — less than one-millionth of a degree.
The team had planned to release its results around now. But there have been problems: The results so far are 1,000 times less precise than what the team had expected. Much of the trouble came from the gyroscopes. The spheres inside carried small patches of electric charge, which subtly disturbed their motion.
Physicist Francis Everitt at Stanford University is the project's leader. He says the team will be able to subtract the disturbance and correct the data.
In recent years, scientists have found other ways to observe the subtle warpings of space predicted by Einstein. NASA recently gave the Gravity Probe B team several million more dollars to continue their work. The team hopes to have better results by the end of the year.