Jarrett Offers Glimpse Into Obama Administration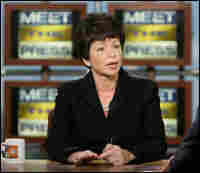 Emmanuel Dunand/AFP/Getty Images
The day after meeting face to face with President Bush at the White House in a momentous affair, President-elect Barack Obama continues to work on his transition to take over the Oval Office on Jan. 20.
One person leading the transition is Valerie Jarrett, one of Obama's closest confidants and a longtime friend.
As an insider to Obama's strategy and his meetings, Jarrett called Obama's Monday meeting with Bush "very cordial" and said it was a good sign that he invited Obama so soon after the election.
"It was a very productive meeting and it was a good first step," Jarrett told NPR's Melissa Block.
"It was an opportunity for Obama to put clearly on the table the issues that he had emphasized in the course of the campaign," she said. "Putting people back to work, making sure that we stabilize our economy in the midst of this economic crisis, ensuring that people are not losing their homes as a result of foreclosure, having an infrastructure bill that will also put people to work. And then do the work that we need so desperately: our roads, our bridges, our schools."
An Obama Administration
Jarrett said Obama will create an Office of Urban Policy that will be charged with focusing on cities and "have a comprehensive approach to urban development."
It is unclear who will lead the office, which will be tasked with advocating for cities and targeting programs in a "logical and systematic way," but it is a key position, according to Jarrett.
"For those of us who have worked in city governments across the country, we recognize how invaluable that person will be," she says.
When asked whether Obama would seek to reverse executive orders President Bush signed, including those concerning stem-cell research and oil and gas drilling, Jarrett said that the president-elect would have the attorney general comb through those after taking office and "determine which ones need to be revoked immediately."
A Sentimental Moment
Seeing Obama at the White House on Monday, Jarrett said she was "very moved by President-elect Obama's accomplishment."
"I think his ability to win this election, despite the odds that he started [with], and to engage people who have never been involved in the process before and have them come out in record numbers and vote for his candidacy — it's something that I think all of America should be so deeply moved and heartened by," she said. "So yes, it is kind of a shifting of the power. And we saw that so poignantly yesterday on the steps of the White House. And I think it speaks so well of the future of our country."
As for how she reacted election night, when she watched Obama win from Chicago, Jarrett said she was moved to tears.
"But I cry all of the time," she said. "Certainly in the last week, I have shed a lot of tears. It's not even so much about Barack Obama — as proud as I am of him as my friend and Michelle — and, I think, what they will be able to do for our country. I also just feel so good about our country."
She added: "We were here in Grant Park the night of the election, and I watched strangers hugging one another, people who have never met before. So we have to capture that enthusiasm and that jubilance. And we have to channel it in a constructive direction, where everybody can feel that they have a stake at the table and they have a role to play in improving our country."