'Times' Exec Vivian Schiller Named NPR CEO
'Times' Exec Vivian Schiller Named NPR CEO
National Public Radio is turning to a new leader to maneuver it through a shifting media landscape. Vivian Schiller of The New York Times Web site will take over as president and CEO on Jan. 5.
RENEE MONTAGNE, host:
And some news now about our own organization. NPR has named a new top executive to help it maneuver through a shifting media landscape. Vivian Schiller is moving from The New York Times to take over as NPR's president and CEO starting this January. NPR's David Folkenflik reports.
DAVID FOLKENFLIK: Vivian Schiller has experience with a lot of different kinds of media. She was a top official at The New York Times, overseeing its Web site. That's a two-fer. TV? She led the Discovery Times cable channel and CNN's documentary unit. There's no radio on her resume. But public radio consultant John Sutton says with so many changes in the media world, that doesn't matter.
Mr. JOHN SUTTON (Public Radio Consultant): We don't know what the future is going to look like. And so the challenge facing somebody coming into public radio right now is actually trying to accelerate how public radio gets things done.
FOLKENFLIK: The audience and reporting staff of NPR have grown, and it is financially more sound than newspapers. But the recession will hit NPR and its member stations hard, too. NPR officials currently project a $2 million deficit this year. New NPR board member Steve Bass of Oregon Public Broadcasting says stations are fearful they'll lose listeners and donations if NPR's shows are available via the Web, mobile phones, and podcasts. He says the question has been...
Mr. STEVEN BASS (Board Member, NPR): What do stations control? What does NPR control? Which in a sense falls away, because ultimately it's what is the consumer going to control?
FOLKENFLIK: Schiller says NPR's hundred of member stations are essential partners in creating an unrivaled news organization that boasts both an international reach and strong local ties. David Folkenflik, NPR News.
NPR transcripts are created on a rush deadline by Verb8tm, Inc., an NPR contractor, and produced using a proprietary transcription process developed with NPR. This text may not be in its final form and may be updated or revised in the future. Accuracy and availability may vary. The authoritative record of NPR's programming is the audio record.
NPR Taps NYTimes.com's Schiller As New CEO
NPR Taps NYTimes.com's Schiller As New CEO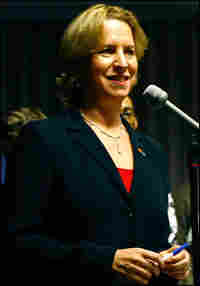 Vivian Schiller of The New York Times Web site will be the new president and chief executive officer of NPR, the NPR board of directors announced Tuesday.
Schiller, who is currently senior vice president and general manager of NYTimes.com, will take the reins at a challenging time for media organizations, as well as the economy as a whole. NPR media correspondent David Folkenflik discusses the pick with Madeleine Brand.
"From my standpoint it seems like a very impressive pick," he says. "In her career, she's not only led NYTimes.com; she's led Discovery Times Channel on cable."
The Discovery Times multimedia experiment "didn't really play out," he says, but "it was very well thought of in terms of the journalism it did."
Before that, Schiller was senior vice president at CNN, where she oversaw long-form broadcasting, in particular documentary work.
She seems to have the right blend of experience to lead NPR, Folkenflik says. She is "someone who is a business manager clearly, but who is steeped not only in the world of journalism but in the world of new journalism."
Schiller will be stepping into the NPR leadership role at a challenging time; as news organizations across the country have laid off employees in droves and newspaper revenues have plummeted, questions have been raised about the future of news. But Howard Stevenson, the chairman of NPR's board, is optimistic.
Folkenflik spoke with Stevenson shortly after the CEO announcement.
"[Stevenson] said, 'Look, there are real challenges for all media right now.' " But ultimately, "He thinks NPR will be stronger than ever five years from now because there is an opportunity for NPR to retain listeners' interest ... [and] provide the service and value through news and information shows."
Beyond the difficulties faced by the news industry, there are challenges posed by the foundering economy as a whole.
"As I pressed him about NPR's budget questions, he acknowledges that support from things like financial services companies and automakers, both of which at times have been underwriters for NPR ... has significantly declined so he acknowledges there may be rough roads ahead," Folkenflik says.
Based on her reputation at the Times, it seems that Schiller has the understanding of the changing media landscape necessary to navigate these roads, Folkenflik says.
"People tell me at the Times that she really gets it there," he says.
NPR has a different business model, however, from other news organizations, and its continued success comes with a different set of considerations.
"One of the real riddles for NPR is finding a way to resolve offering NPR news content and news anyplace anywhere — the mobile imperative ... and at the same times taking care of member stations."
Member stations, he points out, aren't affiliates; "they belong to us and we belong to them" and therefore it is in NPR's best interest to serve them well. Schiller will have to consider, for example, whether it makes sense to stream shows live on NPR's Web site, NPR.org, or whether that risks hurting member stations and their Web sites.
"If we are to undermine their financial model — a lot of them raise a significant amount of their funds from pledge drives on Morning Edition or All Things Considered — that would weaken them."
It's a challenge that former CEO Ken Stern, who was pushed out in March, struggled with. Interviews with a group of public radio officials suggested that Stern failed to convince local stations — and especially their representatives on the board — that he saw a healthy role for them in the digital future.
Ultimately, it's about striking a balance, Folkenflik says.
"What she sees is an opportunity to be the rare national news outlet that has deep roots in local bases," he says. "She thinks we are, in her words, the 'holy grail' of national-local. It will be fascinating to see how she untangles that Gordian knot."