Vernon Jordan On 'Standing Up And Speaking Out'
Vernon Jordan, former head of the National Urban League and the United Negro College Fund, discusses the power of the African-American oral tradition.
In his new book, Make It Plain: Standing Up and Speaking Out, Jordan explains how centuries of story-telling and preaching enabled African-Americans to fight social injustices.
Excerpt: 'Make It Plain'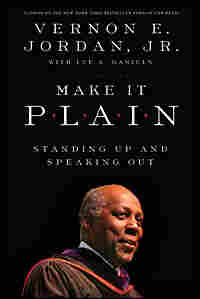 Make It Plain: Standing Up and Speaking Out
By Vernon Jordan
Hardcover, 272 pages
PublicAffairs
List price: $24.95
Introduction
I grew up in Georgia in an era when the lives of black Americans were shadowed by limitation. The struggle to destroy those limitations and restore civil rights was the central fact of our lives. I understood this at an early age because many of the leading figures in the community — teachers, preachers, lawyers, doctors, ordinary working people — were involved in civil rights work in some way. It often was the subject most passionately discussed at the dinner table and at school, where I learned about Negro History Week in the first grade, and at public forums. The AME Church itself had been born in protest in 1787 in Philadelphia, when black worshipers, led by Richard Allen and Absalom Jones, refused to accept their second-class treatment by the white Methodist Episcopal Church. This consciousness permeated St. Paul. We were taught to look upon ourselves as descendants of Allen and Jones, who had an obligation to understand the AME Church's great tradition of practicing the social gospel — of using the lessons of the Bible to comment on broad social and economic conditions as well as the individual's relationship with God. It was that charge that most appealed to me, because it supported my early ambition to be a civil rights lawyer.
While I was aware of the injustice, I never felt intimidated by it. I never felt I needed to limit my aspirations. I observed all these strong black adults around me in church and in the community. And it was made clear to me from within my family, within St. Paul, and at Walker Street Elementary that there were expectations of me. I benefited from the black community's tradition of nurturing the talents of the young; that went on even where the restrictions against what blacks could aspire to were codified in thousands of laws. Because I had shown some talent, I was expected to do something with it. From the community and my family I had inherited an opportunity, and I believed I was in training, preparing myself for leadership in the future.
I had a rich diet of speakers to listen to at St. Paul. There were the Sunday morning sermons, of course, and because I sang in the St. Cecelia Choir, I also participated in the hourlong vesper services at five o'clock, where every fourth Sunday some outstanding person from the community would come to speak to us. The choir was personally underwritten by Dr. Richard A. Billings, our family physician, a prominent member of St. Paul, and a Lincoln Republican who voted against Franklin Delano Roosevelt. He mentored me from elementary school through my early career in the law. I paid very close attention to how these individuals — preachers and laypeople — would begin their speeches, how well they made the point or points of the speech, and how they finished up. I'd listen to them and I measured them and I had the audacity to grade them. Though young, I had my own sense of who had prepared well and who had not, who had been eloquent, who had shown a human touch that drew the audience to listen to them more attentively. I thought I understood whether and how the different parts of the sermons and speeches fit together. I understood that first, the speaker had to lay a good foundation, to give you his text and subject, to tell you what he was going to talk about. Then, in the middle part of the speech I looked for information and inspiration; even at a young age, I rejected volume and fireworks. Finally came the crescendo and the conclusion. How could I know all this as a young boy? It was all intuitive; I could feel it. What I understood then and what I understand now sixty years later is that if people have to listen to you, then you have a responsibility to give them something to listen to.
I also learned early where my own oratorical talents lay and where they did not. During Negro History Week one year at Walker Street Elementary, the teachers staged a program that had the students representing and speaking the words of accomplished black people. Of course, I wanted to play Joe Louis. But that part went to my friend Frank Hill; he went out on the stage to rousing applause from the students in the audience. My teachers had given me the role of William Grant Still, the conductor and composer. I walked out on the stage, declaring, "I am William Grant Still. I conduct symphonies that play Tchaikovsky and Brahms. . . ." It didn't go over well with the students; the reaction was tepid, at best. But my teachers saw more in me than I saw in myself. They saw I was better suited to play William Grant Still, that I had a voice and public personality made for the serious side of public speaking. My teachers sensed my ambition, and they pushed me in that direction. So, in school as well as in church, I became known as a speaker on serious subjects.During my senior year in high school, a classmate, Ethel Wardell, and I entered the state Elks oratorical contest, held that year in Macon, Georgia, and we both won first place. That was a big deal — pictures in the Atlanta Daily World, the only daily black newspaper in the country, a notice on the bulletin boards at St. Paul, and congratulations from the congregation and people in the community.
In the second semester of my freshman year at DePauw University, I won the university-wide Margaret Noble Lee Student Extemporaneous Speaking Contest. The concluding competition was held in the famed East College auditorium at Meharry Hall. I was one of the four finalists, drawn from more than 100 entrants. It was my luck to draw the shortest straw, making me the last to speak. The hall was filled to capacity and the audience, except for me and three of the other four black students at DePauw, was all white. I was confident I would win, and I did. My topic was "the Negro in America."
Some might think it odd that I chose to take on that topic in the early 1950s before an audience that was sure to be almost completely white. But it never occurred to me to be anxious about that. I was at DePauw — where I had chosen to go to college. I knew my audience. Also, because most of the whites there had no experience being friends with or even talking to any black person, the topic, though "foreign," was of great interest to them. And I think they had respect for me and my ability to speak out.
In February of my sophomore year, I won first place in the men's competition of the Indiana State Oratorical Contest over ten other finalists. It was the first time that a DePauw student had won since Andrew J. Beveridge, who later became a U.S. senator from Indiana, had captured first place in 1896. Later that spring, I gained third place in the interstate oratorical contest involving college students from Illinois, Kentucky, Michigan, Ohio, and Pennsylvania, as well as Indiana. At DePauw I religiously read the current issues of Vital Speeches, which contained many of the important speeches of the day, evaluating them as I had the words of the ministers and laypeople at St. Paul. Later, during my decade-long tenure at the Urban League, Vital Speecheswould reprint several of my speeches. I also accepted every invitation from DePauw pre-theological students to speak at the rural white Methodist churches around Indiana they pastored for their "race relations day" exercises.
It was a challenging experience. Often, I was the first black person many of these people had ever met, and white children would rub my skin and look at their hands to see if the color had come off. There was a great curiosity about black people and the issue of race. The audiences were always attentive and inquisitive, but I'm sure, not always in agreement with what I said. In some ways, it prepared me for the experience of the early 1970s when I began to serve on corporate boards and speak to gatherings of whites who had little contact with black people: There was the same profound curiosity and, in some instances, scarcely hidden hostility. All of these experiences at DePauw persuaded me that whatever I was going to do in life, public speaking was going to be a significant part of it.
Excerpted from Make It Plain: Standing Up and Speaking Out by Vernon Jordan Copyright © 2008 by Vernon Jordan. Excerpted by permission of PublicAffairs. All rights reserved.
Books Featured In This Story
Standing Up and Speaking Out
Hardcover, 239 pages |
purchase
Buy Featured Book
Title

Make it Plain

Subtitle

Standing Up and Speaking Out

Author

Vernon E., Jr. Jordan and Lee A. Daniels
Your purchase helps support NPR programming. How?