How Do Children Process, Learn About Race?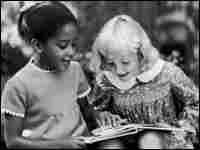 When and how do children look in the mirror and ascribe race to their identities?
As part of News & Notes' month-long series on race, Farai Chideya takes an in-depth look at how kids develop a racial consciousness.
For insight, she speaks first with Christia Brown, assistant professor of psychology at the University of Kentucky.
Then, we hear from Marti Guzman, a mother of two bi-racial children living in Anchorage, Alaska.
Plus, independent journalist Sara Catania opens up about her childhood as one of the only whites at a predominantly black Chicago school.