Book Gives 'New York Times' Take On Historic Times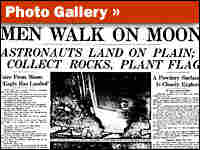 A weighty new tome chronicles 157 years of history as recorded by one of America's most prominent newspapers. The New York Times: The Complete Front Pages features 300 front pages highlighting events since 1851.
Bill Keller, The Times' executive editor, reported many front-page stories for the newspaper. Even now, when the news organization is making a transition to mutiplatform, there's still a thrill to be on the print edition's front page, he says.
"I'm a little more sanguine than some people about the longevity of the printed paper," Keller tells NPR's Robert Siegel. "...It's survived not only recessions and depressions and wars, but a few earlier instances of what we called disruptive new media, including radio and TV, which were supposed to put the printed newspaper out of business."
Keller says he's particularly fond of the printed newspaper. "It's a nice sensation to turn the pages, and you get a quality of serendipity," Keller says. "Look, I love our Web site — I think it's great — but the Internet hasn't quite figured out how to do serendipity in the same way that an old-fashioned printed paper does."
Keller says that because the company now can put out breaking news all the time, the front-page story explains why the event or issue matters.
The book weighs in at 8 pounds, 3.5 ounces. Among Keller's favorite front pages is one featuring Lincoln's Gettysburg address. "Readers found his address embedded in the second column of a long report about the dedication of a new national cemetery," he says.
Keller also likes the front page of Dec. 28, 1879. "I have a real soft spot for the one reporting discovery by some guy named Edison of something called the electric light," he says. "And I think the second or third deck of the headline said: 'Conflicting statements of its utility.'"
Correction
Nov. 18, 2008
In some versions of this story, we said, "[O]n Nov. 20, 1862, readers of 'The New York Times' found [Lincoln's Gettysburg] address." In fact, Lincoln gave the speech a year later — on Nov. 19, 1863.