States' Use Of Tobacco Money Varies Widely
States' Use Of Tobacco Money Varies Widely
First of a three-part series.
Smoking-Related Deaths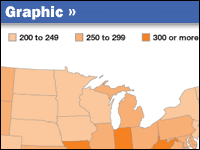 Profiles Of Key Players
One of the major figures in the case is now governor of Washington, while another sits in a Kentucky jail. Read more about the people involved in the settlement.
Impact On Minorities
Asian communities in Washington state have large numbers of hard-core smokers. Hear Elaine Ishihara, director of the state's Asian Pacific Islander Coalition Against Tobacco, talk about the challenges her organization faces in targeting these diverse, multilingual groups.
Elaine Ishihara On Smoking Prevention Efforts In Asian Communities.
About This Series
Tuesday on All Things Considered, as part of this series marking the tenth anniversary of the landmark tobacco settlement, Debbie Elliott will look at the ways tobacco companies have altered their marketing strategies in the wake of stricter regulations. On Wednesday's Morning Edition, she'll explore the future of the tobacco industry with a visit to Philip Morris' Center for Research and Technology in Richmond, Va.
Ten years ago this week, states' attorneys general and Big Tobacco settled the largest civil case in American history, giving the states $246 billion to prevent smoking in exchange for dropping their individual lawsuits against the tobacco companies.
But a decade later, many states have not used the money as they were supposed to. And while the number of people who smoke is down from 1998, smoking remains the No. 1 preventable cause of death in the United States.
Helping Smokers Quit
Washington is one state that has used its settlement money wisely, a move that is helping people like Shaela Brown. Early on a weekday evening, Brown, a mother of five, scurries around her suburban Seattle kitchen trying to pull dinner together. She works all day as a social services case manager, and then comes home to manage her family — seeing to homework for the older kids, giving medicine to her 1-year-old and putting food on the table.
But what she really wants is a smoke. So she sneaks out to the garage.
"We have a little stool here," she says. "It's like a little sanctuary, just to get away from the kids and come out and have a cigarette."
Brown says she and her husband, Marcus Golden, would like to quit. He agrees.
And these days they're getting some encouragement from an unusual place — their daughter MaKaela's preschool. MaKaela attends a state-funded program at Hillcrest Elementary School similar to Head Start. The workers at the preschool are now trained in tobacco counseling, thanks to the money Washington received from the 1998 settlement. The state has spent the money the way it was intended, and now its smoking rate — 16.5 percent — is among the lowest in the country.
"We've cut smoking rates for kids in half," says Gov. Christine Gregoire, who has a special interest in the project. She is a former state attorney general and was a lead negotiator in the settlement. "In 2000, we were No. 20 in adult smoking rates. Now we're No. 6. So you can see if you do use the money, it works. It works."
At MaKaela's preschool, family support specialists Noelle Powell and Cheryl Seaborn are trying to make it work. Powell says that while parents have traditionally filled out questionnaires about smoking, now they can actually get help to quit. She and Seaborn hand out stop-smoking kits packed with pamphlets, a planner to track smoking habits, and lots of goodies to help smokers fight their cravings, including lollipops, toothbrushes and toothpaste.
The day-care program is part of Washington state's focus on low-income smokers — whose smoking rates have not fallen as fast as other groups', according to Paul Zemann, a health education consultant with the King County Health Department. Nationally, about one-third of smokers are poor, and more affluent smokers are better positioned to quit.
"We picked the low-hanging fruit," Zemann says. "What we have is people with less money that aren't getting the services. ... That's where we need to be dedicating our settlement dollars."
Missed Opportunities
Washington has received $1.25 billion in settlement payments from tobacco firms, and the money has consistently gone for public health initiatives and to fight smoking. But that's not so in other states. Overall, less than 5 percent of the tobacco money has gone for tobacco prevention.
"It is truly one of the greatest historic missed opportunities to bring about public health change that this nation's ever seen," says Matt Myers, president of the Campaign for Tobacco-Free Kids and a key player in the tobacco talks. "Sadly, the states have used this money as their private piggy bank. Even things like golf carts for a golf course in upstate New York, to funding tobacco-related activity in North Carolina. It's gone to whatever the pet project of the local politician is."
Nearly half the states, including New Jersey and California, securitized their settlements — meaning they sold off the future payments for a lump sum to pay down debt or balance budgets.
Connecticut doesn't spend any of its settlement proceeds on tobacco control. Other states, such as Ohio, had strong programs for a while but cut them in tough economic times.
Jay Hottinger, chairman of the Ohio House Finance Committee, says lawmakers had to decide what did the greatest good.
"Obviously it was a huge infusion of cash," he says. "And I don't think anyone could justify the entire amount on smoking cessation. ... So a substantial amount did go toward school building construction."
Most recently, Ohio tobacco funds went toward an economic stimulus package.
Despite disputes over how to spend the money, the settlement has resulted in more programs and lower smoking rates. Youth smoking is down nationally from 36 percent a decade ago to 20 percent today, and adult rates have dropped from just under 25 percent to just under 20 percent.
Combating Cultural Norms
In Washington state, the focus now is on the hardest-core smokers, including immigrants.
At a Buddhist temple in Tacoma, the state is funding Vietnamese community leaders to take on a culture where smoking is a social ritual.
"In my youth, smoking in Vietnam was the norm," says Phuc Nguyen, who works with local anti-smoking activists to reach other members of the temple. "If you're not smoking, you're not a man."
After smoking for 29 years, Nguyen quit. He says he has to be subtle about getting others to join him.
"If you say don't smoke because it's unhealthy, people don't listen to you," he says. It's more effective to tell them, "You'll have to see the doctor more. You'll buy more medicine. Your pocket will be empty soon."
Zemann says officials used to fear that if they overdid the anti-smoking talk, they'd drive clients away from other essential services. But that outlook has changed.
"We've done a poor job at getting the message out and we are trying to catch up now," Zemann says.
After all, he says, the tobacco companies have certainly gotten their message to immigrant communities. "What's more American than Marlboro?"
This series was produced for broadcast by Marisa Penaloza.