Classical Teens Ring Out In The Rockies
Classical Teens Ring Out In The Rockies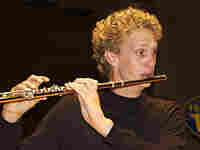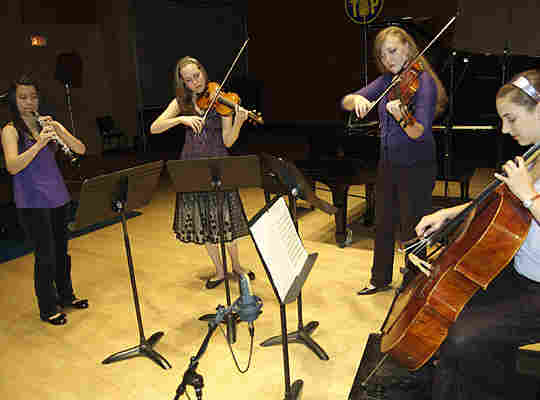 From the Aspen Music Festival and School in Aspen, Colo., a gifted flutist embraces a Swiss ballade, a 16-year-old violinist tosses off a devilish sonata and a 14-year-old pianist tackles Liszt's Mephisto Waltz.
Sixteen-year-old Ga-Yeon Lee knew she wanted to play violin when she was three years old.
"I saw an orchestra commercial on TV and kept pointing to the violin, asking my parents if I could have one," she recalls.
Lee got her first violin a year later, but when she passed her bow over the strings, no sound came out. She and her parents thought the instrument was defective — until they realized that they had forgotten to put rosin on the bow hair.
Lee 's parents have been extremely supportive of her musical interests, going so far as to move from Korea to America so Lee could further her violin studies.
Music is unquestionably Lee's greatest passion and she loves performing for an audience.
"It's really fun to communicate with people through music," she says. "It's like sharing a different story every time I play." Lee performs Giuseppe Tartini's Violin Sonata in G Minor, known as the "Devil's Trill," in an arrangement by Fritz Kreisler . Pianist Christopher O'Riley accompanies her.
Flutist Doug DeVries played piano as a child, but when he joined the school band he was hoping to take up the saxophone.
"Unfortunately everyone else in the seventh grade wanted to play sax too," he says.
Instead, the band teacher handed him a trumpet, but DeVries discovered that playing the instrument with braces on his teeth was just too painful. He switched to the euphonium, an instrument with bigger mouthpiece, but it was still too painful to be enjoyable. DeVries was about to give up when fate intervened.
"During Christmas break I was up in the attic getting stuff to decorate the tree and there it was," he recalls. "My mom's old flute!" DeVries tried it out and found he was able to produce a good sound almost immediately. He knew he had found the right instrument, and before long started taking lessons with Cathy Karoly of the Los Angeles Philharmonic.
DeVries, a recipient of the Jack Kent Cooke Young Artist Award, plays "Ballade," by Frank Martin, accompanied by Christopher O'Riley.
Pianist Colton Peltier, 14, comes from a family of high achievers — not musically, but athletically. His dad was a Major League baseball player and his mom was a champion swimmer. His siblings, too, excel at all sorts of sports.
"You might say I'm the rebel of the family," says Peltier with a grin. Peltier's parents enrolled him in Kindermusik when he was two years old.
"I was kind of naughty and the teacher told my parents I'd never take to music."
Peltier proved his teacher to be overwhelmingly wrong. At the age of nine, he became the youngest person ever to solo with the St. Paul Chamber Orchestra.
Since then, he's had numerous professional engagements and has won several competitions, such as the Minnesota Idol Competition — a piano competition where the audience votes, American Idol-style.
Peltier performs Franz Liszt 's Mephisto Waltz No. 1.
Eighteen-year-old soprano Julia Metzler comes from a musical family, but she still found a way to break the mold. Her parents run a violin shop, play violin themselves, and encouraged Metzler to take it up too.
"I started playing the violin when I was four," says Metzler, "but I made it clear from the very beginning that I didn't want to do so professionally."
At age 13, Metzler discovered singing, and was delighted to apply the musical skills she'd acquired playing the violin to her newfound discipline. Metzler performs "Que fais-tu, blanche tourterelle" from Romeo et Juliette, by Charles Gounod.
The final performance on this week's program comes from four talented musicians from the Aspen Music School who got together to play an oboe quartet by Mozart : oboist Beverly Wang, violinist Mikaela Holland, violist Meredith Treaster, and another Jack Kent Cooke Young Artist Award recipient, cellist Emma Bobbs. This was the first time any of them had ever played an oboe quartet.
"I'm used to woodwind quintets," says Wang, "so playing chamber music with stringed instruments is a really cool feeling for me."
The ensemble plays the first movement of Mozart's Oboe Quartet in F Major, K. 370.