Roundtable: Obama Transition Reflecting Change?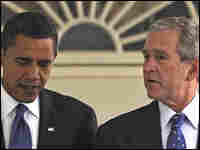 President-elect Barack Obama rode to the White House championing the slogan, "Change You Can Believe In." But, so far, 31 of his 47 appointments to White House transition and staff posts have ties to the Clinton administration.
Critics say his new slogan may well be "Politics As Usual," while others say it's simply a matter of needing seasoned government veterans to handle an array of pressing crises.
On that issue and more, Farai Chideya speaks with Rob Redding of Redding News Review; Patrice Yursick of Afrobella; and Charles Robinson of Charles Black Politics Blog.