Senate Debates Bailout For U.S. Automakers
Senate Debates Bailout For U.S. Automakers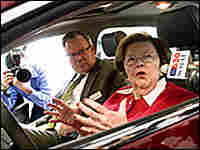 Brendan Hoffman/Getty Images
Help for the auto industry is a top priority for Democratic leaders, and it was the opening item of business as the U.S. Senate resumed its duties after a six-week break. But many senators appear to be feeling bailout burnout.
Majority leader Harry Reid of Nevada began the session by proposing an economic stimulus package with help for the auto industry. If that's rejected, Reid said, he'll try again by pairing auto industry aid with an extension of unemployment benefits.
"Senators have a choice to make: They can wait until January, when we have a new Congress and a new president, or we can start trying to work on some of these problems now," Reid said.
He got some spirited support on the Senate floor from Maryland Democrat Barbara Mikulski. "This session of the Senate should not be called a lame duck," she said. "We should neither be lame, nor should we duck the big issue facing our country."
Alternate Plans Emerge
But Mikulski did not call for the $25 billion worth of federally guaranteed loans that Reid is seeking. Instead, she offered her own proposal costing $8 billion: tax breaks for those buying cars between now and the end of next year.
Missouri Republican Kit Bond co-sponsored that proposal. But Bond also called for direct help for the auto industry — as long as some strings are attached. "Funds should be conditioned on a strong restructuring plan for the industry and for each recipient of the funds," Bond said.
Another Republican, Pennsylvania's Arlen Specter, said he was inclined to consider a bailout for the auto industry, but only if there was a plan to make it economically viable. Automakers have been "on notice for a long time that they were in a very difficult, competitive situation, that the standards on gas mileage were about to be imposed and were imposed in legislation last year, and what have they done?" he asked.
It wasn't just Republicans criticizing Detroit. Florida Democrat Bill Nelson said the auto industry should not be rewarded for poor management. "For too long, our U.S. domestic automakers have ... failed to produce vehicles for the 21st century — for that matter, for the last half of the 20th century," he said.
Still, Nelson argued that too many other American jobs depend on the auto industry for it to be allowed to fail.
Such reasoning didn't sway Arizona Republican Jon Kyl. For him, a bridge loan to Detroit's automakers is a bridge too far. "There's no indication that the car companies would do anything different than they've been doing, which has been a big failure, which is why they need the bailout," he said, adding, "There's no reason to throw money at a problem which is not going to get solved."
Votes Uncertain
As the Senate's No. 2 Republican, Kyl's job is to know how his GOP colleagues intend to vote. But when asked Monday how many other Republicans share his opposition to an auto industry bailout, Kyl begged off. He'd only spoken to a handful of colleagues in the new session's opening hours.
Senate Democrats likely would need the support of at least 10 Republicans to pass a bailout for Detroit. That may be too much to hope for in this lame-duck session. With Democrats taking over at least half a dozen GOP-held seats in January, Monday's arguments may be the opening salvos of a debate that concludes in the next Congress.