Road Trip: GM, Ford, Chrysler Travel To Capitol Hill
Congress and the White House say they want to do something to help the nation's automakers, which are close to insolvency. Executives from Ford, GM and Chrysler will be on Capitol Hill on Tuesday to plead their case. But there is no consensus on what to do for Detroit. It may be next year before Washington acts, which the industry fears may be too late.
STEVE INSKEEP, host:
It's Morning Edition from NPR News. Good morning, I'm Steve Inskeep.
RENEE MONTAGNE, host:
And I'm Renee Montagne. Executives from the Big Three automakers plead their case on Capitol Hill today. Without government assistance, the car companies could be facing bankruptcy. Some in Congress want to provide loans. The White House opposes tapping into the federal rescue package. And with no consensus on what to do for Detroit, the carmakers may have a hard time getting a quick answer. NPR's Brian Naylor reports.
BRIAN NAYLOR: There are at least two schools of thought in Washington about how to help the auto industry - help most lawmakers agree is probably necessary. Senate Majority Leader Harry Reid wants the government to carve $25 billion from the already approved $700 billion Wall Street bailout package.
Senator HARRY REID (Democrat, Nevada; Senate Majority Leader): The Treasury Department has acknowledged that they could provide the auto companies the temporary assistance to keep automakers solvent by taking money our of the $700 billion we have already provided to the Treasury Department, but the secretary of Treasury said that he chooses not to do that.
NAYLOR: Indeed, the Bush administration says the Wall Street bailout plan was not designed to help industries other than the financial sector. Their solution is for lawmakers to give auto companies access to $25 billion approved last year to help them make more fuel-efficient cars. Democrats say that money is off the table. While there are disagreements over where to get the funds, lawmakers are also pointing fingers over whom to blame for Detroit's woes. Auto industry executives are a favorite target. Here's Florida Democrat Bill Nelson.
Senator BILL NELSON (Democrat, Florida): We need new people, new eyes, new ears to steer us out of this mess. We cannot reward those leaders whose poor decisions and poor judgment and sometimes selfishness got us to where we are now.
NAYLOR: Under the Democrats' proposal, automakers who receive government loans couldn't pay bonuses to executives who make over $250,000 a year. But Arizona Republican Jon Kyl says it's labor costs that are to blame for the industry's problems.
Senator JON KYL (Republican, Arizona): The car companies have made some contracts with the United Auto Workers labor union primarily that are literally dragging them down. It's like asking somebody to swim with a 50-pound weight around their neck. And it's no wonder they can't meet the obligations under the contracts and need taxpayer assistance.
NAYLOR: Kyl says GM should reorganize under Chapter 11 of the bankruptcy code. Industry backers say that could be fatal to the company because consumers would resist buying a new car from a company perceived to be bankrupt. Another idea co-sponsored by Democratic Senator Barbara Mikulski of Maryland seeks to spur demand for new cars by giving consumers a tax break for buying one by the end of the year.
Senator BARBARA MIKULSKI (Democrat, Maryland): People say, well, what is the cost of this, Senator Barb? Well, I'll tell you. It's about $8 billion. And they go, oh, well, we just spent 350 billion and threw it down the rat hole? We don't have anything to show for this 350 but more arrogance, more greed. And while they want America to go on Lean Cuisine, they're doing spa cuisine.
NAYLOR: Along with the help for the auto industry, Senate Democrats are also pushing to extend unemployment benefits for up to 13 weeks, which the House has already approved. Democratic Senator Sherrod Brown of Ohio called it the right thing to do.
Senator SHERROD BROWN (Democrat, Ohio): It holds one important advantage over the financial bailout. The people who benefit from an extension of unemployment compensation, from an extension of unemployment insurance - the people who benefit directly live on Main Street, not a single Wall Street CEO in sight.
NAYLOR: In the end, unemployment benefits are likely to pass this week, but there is little consensus on how to proceed on an auto bailout, making action in this lame-duck session unlikely. Brian Naylor, NPR News, the Capitol.
NPR transcripts are created on a rush deadline by Verb8tm, Inc., an NPR contractor, and produced using a proprietary transcription process developed with NPR. This text may not be in its final form and may be updated or revised in the future. Accuracy and availability may vary. The authoritative record of NPR's programming is the audio record.
Senate Debates Bailout For U.S. Automakers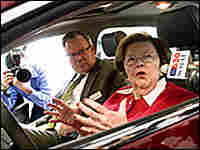 Brendan Hoffman/Getty Images
Help for the auto industry is a top priority for Democratic leaders, and it was the opening item of business as the U.S. Senate resumed its duties after a six-week break. But many senators appear to be feeling bailout burnout.
Majority leader Harry Reid of Nevada began the session by proposing an economic stimulus package with help for the auto industry. If that's rejected, Reid said, he'll try again by pairing auto industry aid with an extension of unemployment benefits.
"Senators have a choice to make: They can wait until January, when we have a new Congress and a new president, or we can start trying to work on some of these problems now," Reid said.
He got some spirited support on the Senate floor from Maryland Democrat Barbara Mikulski. "This session of the Senate should not be called a lame duck," she said. "We should neither be lame, nor should we duck the big issue facing our country."
Alternate Plans Emerge
But Mikulski did not call for the $25 billion worth of federally guaranteed loans that Reid is seeking. Instead, she offered her own proposal costing $8 billion: tax breaks for those buying cars between now and the end of next year.
Missouri Republican Kit Bond co-sponsored that proposal. But Bond also called for direct help for the auto industry — as long as some strings are attached. "Funds should be conditioned on a strong restructuring plan for the industry and for each recipient of the funds," Bond said.
Another Republican, Pennsylvania's Arlen Specter, said he was inclined to consider a bailout for the auto industry, but only if there was a plan to make it economically viable. Automakers have been "on notice for a long time that they were in a very difficult, competitive situation, that the standards on gas mileage were about to be imposed and were imposed in legislation last year, and what have they done?" he asked.
It wasn't just Republicans criticizing Detroit. Florida Democrat Bill Nelson said the auto industry should not be rewarded for poor management. "For too long, our U.S. domestic automakers have ... failed to produce vehicles for the 21st century — for that matter, for the last half of the 20th century," he said.
Still, Nelson argued that too many other American jobs depend on the auto industry for it to be allowed to fail.
Such reasoning didn't sway Arizona Republican Jon Kyl. For him, a bridge loan to Detroit's automakers is a bridge too far. "There's no indication that the car companies would do anything different than they've been doing, which has been a big failure, which is why they need the bailout," he said, adding, "There's no reason to throw money at a problem which is not going to get solved."
Votes Uncertain
As the Senate's No. 2 Republican, Kyl's job is to know how his GOP colleagues intend to vote. But when asked Monday how many other Republicans share his opposition to an auto industry bailout, Kyl begged off. He'd only spoken to a handful of colleagues in the new session's opening hours.
Senate Democrats likely would need the support of at least 10 Republicans to pass a bailout for Detroit. That may be too much to hope for in this lame-duck session. With Democrats taking over at least half a dozen GOP-held seats in January, Monday's arguments may be the opening salvos of a debate that concludes in the next Congress.