Steele Says Gingrich Backs His Run For RNC Chair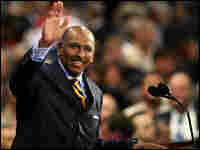 Former Maryland Lt. Gov. Michael Steele says he has a new ally in his pursuit of the chairmanship of the Republican National Committee: former House Speaker Newt Gingrich.
Gingrich was reportedly interested in the position, as well. But as Steele exclusively told NPR's Farai Chideya: "Newt's decided not to run for the job, and he's, in fact, supporting me in my efforts."
"Newt is an idea guy," Steele added. "He's the professor, he's the thinker. He's the one who crystallizes emotions and policy and opportunity all into a package that helps the party begin to speak with clarity on some of these complex issues. And I'm very happy to have him help me do that."
Gingrich made his decision last week, Steele said. But a representative for Gingrich told News & Notes, "[He] is not endorsing Michael Steele ... Steele is one of several people that Newt likes who is running."
The GOP is picking up the pieces after decisive losses in this month's election. As Republicans look for new leaders who can transform the party, Steele has emerged among those at the forefront.
'We Lost Our Voice'
"We lost resonance with the people of America," he said. "We lost our voice ... and we have to find a way to get it back."
Steele currently heads GOPAC, a powerful political action committee that provides support to Republican candidates running for elected office.
Looking forward, Steele said the Republican National Committee should improve its effectiveness by working on its "ground game."
"[The RNC] has become this national behemoth that sort of dictates from on high how we run and win elections, and the track record over the last two cycles at least has been abysmal at best," he said. "So the strategy for us, as I see the RNC in this century, is decentralized. It is focused on helping state and local parties energize the base and developing strategies and messages for communities."