Excerpt: 'Hallelujah Junction'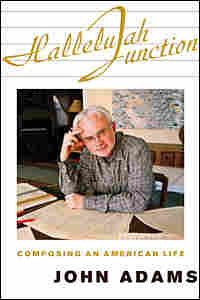 Hallelujah Junction: Composing an American Life
By John Adams
Hardcover, 352 pages
Farrar, Straus, and Giroux
List price: $26.00
More Recommendations
I composed two serious pieces during my two years of graduate school. The first was a quintet for piano and strings, written in the spring of 1970. I must have put Cage aside altogether to compose this piece, because it resembled Alban Bergo more than anyone else. This composition, which was the first of mine to be well performed by capable, professional players, was a student piece in the sense that it was almost entirely derivative in style and idea. But it also possessed a powerful harmonic urgency and rhythmic drive that caught some listeners' attention when it was first performed in Cambridge in May of that year. My teacher, Leon Kirchner, liked its serious, appassionata nature, and he arranged for a second performance at the prestigious Marlboro Music Festival in Vermont. I later played a tape of the piece for Aaron Copland, who gave it his undivided attention and then pronounced it a "tough listen"—meaning, I presumed, that although he could acknowledge its unities, he was nonetheless discomfited by its dissonance and unyielding emotional intensity. If I'd learned anything from John Cage, there was certainly no evidence in my Quintet for Piano and Strings, music that sounded like it could have been composed in 1910 Vienna by a young man bent on committing a murder-suicide.
The other composition from my graduate years was far more futuristic and no less apocalyptic: a fifteen-minute tape composition called Heavy Metal. The title came from a character in William Burroughs's gallery of the extraterrestrial underworld, Uranian Willy, Heavy Meal Kid. This was years before the similarly named genre of rock came into existence. For this piece, composed entirely on tape with processed prerecorded sounds, melded with the gurgling sequences of the Buchla synthesizer, I recorded a friend reading the final paragraph of Burroughs's experimental novel The Soft Machine, a paragraph full of quintessential Burroughs phrases, part sci-fi garble, part junkie street lingo. "Think police keep all boardroom reports and we are not allowed to proffer the disaster accounts . . . a long time I held the stale overcoat in the tired subway dawn . . . migrants of ape in gasoline crack of history . . ." and so on.
I placed this text in the middle of a small universe of random sounds that included everything from the rattling of kitchen pots and pans, to radio transmissions, to clanging Peking Opera gongs I'd recorded at a dinner party given by my Chinese professor. The models for Heavy Metal were several classics from the era of studio tape music: Variations IV by Cage, and the sprawling, interplanetary electronic compositions by Stockhausen, especially Telemusic and Hymnen. (This was very likely the same music that the Beatles had listened to prior to making Sgt. Pepper.) Unfortunately there was no one to teach me the etiquette of dealing with magnetic tape, so my editing and remixing was crude, resulting in a final version of Heavy Metal that suffered from hiss and frequency loss. I spliced the various segments together with a razor blade and Scotch tape. It was a funky, homemade piece, but unlike the previous year's Berg imitation, it was a genuinely original work. It sufficed for my master's thesis, although I never gave the university a copy. In the intervening years, I neglected to take care of the master tape, and it finally deteriorated from age and exposure. Heavy Metal is lost to the ages.
Excerpted from Hallelujah Junction by John Adams, published in October 2008 by Farrar, Straus and Giroux. Copyright © 2008 by John Adams. All rights reserved.