Daschle Accepts HHS Post, Democratic Officials Say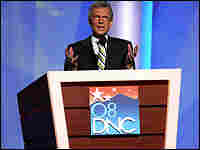 Giacinta Pace/NBC NewsWire/Associated Press
Former Senate Majority Leader Tom Daschle has agreed to be President-elect Barack Obama's nominee for secretary of Health and Human Services, a Democratic official confirmed to NPR on Wednesday.
The formal announcement has not been made, but a party official confirmed that Daschle was offered the nomination — and accepted it. This is seen as one of the most important Cabinet posts in the new administration, given the prominence Obama put on the need for affordable health care for the millions of uninsured Americans during his campaign.
The South Dakota Democrat is serving as Obama's chief adviser on health care policy during the president-elect's transition to the White House. He recently co-authored a book on health care issues, Critical: What We Can Do About the Health Care Crisis.
Daschle, 60, was born in Aberdeen, S.D. He was first elected to serve in the House of Representatives in 1978 and was re-elected three times. He won a Senate seat in 1986 and was the party's leader in the Senate from 1994 to 2004, serving as majority leader when the Democrats were in control of the Senate from 2001 to 2003.
Since his unsuccessful re-election bid in 2004, Daschle has served as a policy adviser at the Atlanta law firm of Alston & Byrd.
Organizations seeking to expand health coverage were quick to praise the selection.
"Sen. Daschle has a deep commitment to securing high-quality, affordable health care for everyone in our nation," said Ron Pollack, executive director of Families USA, a family health care advocacy group. "His new leadership position confirms that the incoming Obama administration has made health care reform a top and early priority for action in 2009."
Meanwhile, former President Bill Clinton is taking steps to help his wife, New York Sen. Hillary Clinton, if she should be selected by the president-elect to be the nominee for secretary of state, Democratic Party officials said Wednesday.
Bill Clinton will publicly disclose the names of all donors who have given more than $250 to his presidential library and foundation if Hillary becomes the nominee for the nation's top diplomatic post. Officials were trying to work out the details on how to handle those who gave money on the condition that their names would not be revealed.
Hillary Clinton is said to be weighing the option of becoming secretary of state against staying in the Senate. Face-to-face meetings between the transition team and lawyers representing the Clintons have ended, but aides to the president-elect said some final vetting is still under way.
Transition officials for Obama said other candidates have been vetted for the job.
Compiled from NPR and wire reports.