West African Finds At The WFMU Record Fair
The regional record fair, like the comic-book conventions with the 25-cent treasure chests that gave me hours of pleasure as a child, has been replaced by mega-shows that attract dealers and collectors from the far reaches of the world. However, one perennial favorite from the "good old days" still exists: the WFMU Record Fair in New York City. Given its location in one of the most diverse cities in the world, this gathering offers the collector a real chance to find unknown minimal-synth seven-inches from Germany, random rap 12-inches from the Bronx's Golden Age, and Japanese Kabuki-psychedelia.
After bargaining for a dealer's pass to last fall's fair so I could make my way through the space as the vendors settled in, I found myself transfixed by the offerings at two competing stands. There was Franco, a German native fresh from a three-year stint in Africa, and a native Nigerian who insisted on going nameless, who offered some of the heaviest West African funk, highlife, juju and psychedelia I'd seen in some time. Here are some of my greatest finds.
West African Finds At The WFMU Record Fair
K. Frimpong & His Cubano Fiestas
Song: Kyenkyen Bi Adi Mawu
from K.Frimpong & His Cubano Fiestas
Any Ghanaian over 20 knows guitarist K. Frimpong and this song, his anthem. This explains why, Franco joked, every available copy of the album is in such deplorable condition. The record collector's selfish lament: "If only someone hadn't enjoyed this before I got my white-gloved hands on it!" This song, a driving seven-minute workout, contains some woeful lyrics sung in English ("Because of money, someone taken my baby from my hand"), but caught me for its unbeatable rhythm. The drummer, Kung Fu Kwaku, is listed on the back of the album's jacket as "Africa's Best Drummer." He might well be.
William Onyeabor
Song: Better Change Your Mind
from Atomic Bomb
Synth master William Onyeabor recorded some of the best boogie to emanate from Nigeria in the early 1980s. This song, described by the Nigerian dealer selling it to me as a "twisted Afro Moog-funk fest," is possibly his most accessible funk piece. But it's Onyeabor's prescient vocals which make "Better Change Your Mind" all the more relevant today. He calls out America, Russia, China, Cuba, Canada and Britain in particular, asking, "Do you ever think this world is yours?" before dropping the bomb: "If you're thinking so, my friends, better change your mind!"
Rob
Song: Your Kiss Stole Me Away
from Funky Rob Way
Ghanaian psych-funker Rob Kanda is known for his "Make It Fast, Make It Slow" groove-masterpiece on Sound Way Recordings' Ghana Soundz compilation. This album, his first, contains funk many shades darker, alongside some of the deepest ballads I've heard from Ghana. This is one of the rarest funk albums from the country. Franco, who is fortunate enough to have found three copies, suggested that, in a largely conservative Christian country, Rob's stage show of half-naked go-go dancers might have thrown those not Mothership-connected for a loop.
SJOB Movement
Song: Stone Funk
from A Move In The Right Direction
Most Nigerian albums that contain songs with the word "funk" in the title are from the late '70s, and sound more like disco than the Fela Kuti/James Brown/BLO blend we record collectors hope to find. Not so with the SJOB Movement. This album has not seen a reissue. Yet, due to the unexplainable amount of clean copies of the original album that have surfaced in recent years, collectors and bloggers have certified the set as a stone-cold funk classic.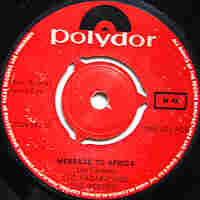 Leo Fadaka And The Heroes
Song: Message To Africa
from Leo Fadaka And The Heroes 7" Single
Polydor's Nigerian output lagged behind that of HMV and EMI. But the label certainly took its chances in signing adventurous artists whose output defies categorization. For example, Leo Fedaka's Afrobeat inspired "Message to Africa," which skirts Afrobeat, psychedelia, funk and highlife without stopping to ask questions.
Egon is the general manager of the Stones Throw label. He also founded Now-Again Records, which reissues American funk and soul albums, as well as the Soul-Cal imprint with Peanut Butter Wolf. He DJs funk and psychedelia sets at venues all around the world.
Related NPR Stories
Web Resources