Anthem: Sleater Kinney
Set List
"One More Hour" (Sleater-Kinney)
Sleater-Kinney interview about Olympia, Wa.
"Little Babies" (Sleater-Kinney)
Sleater-Kinney interview about band history
"Clementine" (Helium)
Helium interview about
"Leon's Space Song" (Helium)
Sleater-Kinney and Helium improvised jam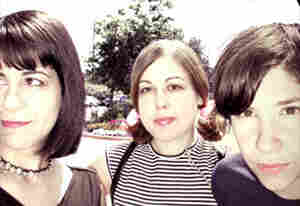 This week two women-led bands join Rick in the Studio. Sleater-Kinney start us off with a tune called "One More Hour." (Sleater-Kinney's most recent CD is called Dig Me Out, out on Kill Rock Stars, #276.)
Rick continues his conversation with Sleater Kinney. They play their tune "Little Babies" as well as an untitled track that will appear on their upcoming CD.
Rick speaks with Boston writer Clea Simon about why Boston has had such a strong music scene — especially for bands led by women. They discuss bands Come, Throwing Muses, Jen Trynan, and Helium, one of our musical guests this week.
Rick chats with the members of Helium, who play their songs "Clementine" and "Leon's Space Song." We also play part of a jam session improvised by the members of Helium and Sleater Kinney in our studios.