Recipes: 'Ten'
More Recommendations
These recipes appear in Ten: All the Foods We Love and 10 Perfect Recipes for Each by Sheila Lukins, (Workman Publishing Company, 2008).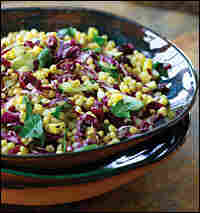 Wheat Berry Salad With Pineapple and Cranberries
Serves 10

Wheat berries have a wonderfully chewy texture, but they require a good overnight soak and an hour of cooking before they're ready to eat. This salad is worth the planning. I first tasted a wheat berry salad at Anna Pump's Loaves and Fishes — a favorite prepared-foods shop in Sagaponak, Long Island — and it inspired this one: ripe pineapple, cucumbers and dried cranberries combined with this special grain. Pure magic.

1 cup wheat berries
1/2 teaspoon salt
1/2 hothouse (seedless) cucumber
1 cup diced ripe pineapple (1/4-inch dice)
3/4 cup dried cranberries
1 cup shredded tender radicchio leaves
3 tablespoons chopped fresh flat-leaf parsley
2 tablespoons olive oil
3 tablespoons fresh lemon juice
Salt and freshly ground black pepper, to taste

1. Place the wheat berries in a colander and rinse them under cold running water. Drain the wheat berries and transfer them to a bowl. Add cold water to cover by 2 inches, and set aside to soak overnight.

2. Drain the wheat berries in a colander and rinse them well under cold running water. Transfer them to a large pot and add water to cover by 3 inches. Bring to a boil. Then reduce the heat and simmer, partially covered, until the wheat berries begin to soften, about 15 minutes.

3. Add the salt and cook, uncovered, until the wheat berries are tender, about 45 minutes; test them occasionally while they are cooking. Drain in a colander, and rinse thoroughly under cold running water. Drain the wheat berries well and spread them out on a baking sheet; let them dry for about 45 minutes.

4. Quarter the cucumber lengthwise (do not peel it) and thinly slice the quarters. You should have 1 cup cucumber pieces.

5. Place the wheat berries in a bowl and add the cucumbers, pineapple and cranberries. Toss well with a fork. Toss in the radicchio and parsley. Add the oil, lemon juice, and salt and pepper, and fluff well with a fork. Let rest at room temperature for 20 minutes before serving.
Orange-Ginger-Tomato Glazed Chicken
Serves 8

There is something about a glistening orange chicken that has universal appeal. The salty olives balance the sweetness, and the oven-roasted tomatoes inject a little sophistication into this easy-to-prepare party dish.

For the oven-roasted tomatoes:
8 ripe plum tomatoes, halved lengthwise
3 tablespoons extra-virgin olive oil
2 tablespoons sugar
Freshly ground black pepper, to taste

For the chicken:
2 chickens (each 3 1/2 pounds), each quartered
Salt and freshly ground black pepper, to taste
1 cup bitter orange marmalade
1/4 cup finely minced fresh ginger
Finely grated zest and juice of 2 oranges
1/2 cup pitted green Spanish olives
1/2 cup chicken broth, preferably homemade
2 tablespoons chopped fresh mint leaves, for garnish

1. One day ahead, prepare the oven-roasted Tomatoes: Preheat the oven to 375°F.

2. Place the tomatoes, cut side up, on a baking sheet. Drizzle them with the olive oil and sprinkle with the sugar and pepper. Bake for 1 1/2 hours. Cool to room temperature. Refrigerate, covered, until ready to use. They will keep up to 2 days.

3. When you are ready to prepare the chicken, preheat the oven to 350°F.

4. Rinse the chicken well, removing any excess fat, and pat it dry. Place the chicken, skin side up, in a large roasting pan. Do not crowd it-use two pans if necessary. Season well with salt and pepper. Tuck the oven-roasted tomatoes among the chicken pieces.

5. Spread the marmalade over the chicken. Sprinkle with the ginger and the orange zest. Scatter the olives over the chicken, and pour the orange juice and chicken broth into the pan. Bake until the chicken is golden brown and the juices run clear when the thickest part of the chicken is pricked with the tip of a small knife, about 1 1/4 hours.

6. Using a slotted spoon, transfer the chicken, tomatoes and olives to a platter. Moisten the chicken with some of the pan juices, and sprinkle the chopped mint over it. Pass the remaining pan juices in a warmed sauceboat.


Books Featured In This Story
All the Foods We Love and Ten Perfect Recipes for Each
Paperback, 455 pages |
purchase
Buy Featured Book
Title

Ten

Subtitle

All the Foods We Love and Ten Perfect Recipes for Each

Author

Sheila Lukins and Laurie Griffith
Your purchase helps support NPR programming. How?