Rep. Waxman Known As A Keen Negotiator
Rep. Waxman Known As A Keen Negotiator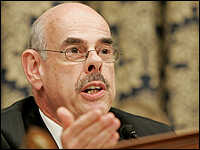 There are a lot of new faces on Capitol Hill, and some old faces in new places. Among the latter is Calif. Democratic Rep. Henry Waxman.
Thursday, in a secret ballot vote among his fellow Democrats, he ousted Michigan Rep. John Dingell to become chairman of the powerful Committee on Energy and Commerce.
Waxman has been waiting a long time for this moment.
"John Dingell has been chairman or ranking member of the Energy and Commerce committee for 28 years, and most of that time I have been No. 2 after him in seniority," Waxman said.
But with a new Democratic president-elect and bigger Democratic majorities in the House and Senate, the 69-year-old Waxman finally got tired of waiting for the 82-year-old Dingell to retire.
"I think it's important for us to have new leadership on the committee. That's why I ran; that's why I'm delighted I won, so we can provide the change the people told us they want" through this election, Waxman said.
'A Very Activist Committee'
And like the president-elect, Waxman wouldn't say whether he will try to tackle energy or health care first.
"I don't think we can say that we can only do one issue at a time," he said. "I think we've got to tackle them all."
What others will say is that Waxman will bring his trademark tenaciousness to his new post.
"I think you're going to see a very activist committee, a committee that brings about Barack Obama's message of change," said Tennessee Democrat Jim Cooper, who helped manage Waxman's campaign for the chairmanship. "I think there are a million legislative details to be figured out, but I think we're going to see real progress on the environment, real progress on energy, and most important for me, real progress on health care."
The Waxman-Dingell Partnership
Waxman spent 16 years as chairman of the Commerce panel's Health and Environment subcommittee. There the more liberal Waxman tangled with Dingell over clean air and other environmental legislation.
But he mostly worked with the chairman on health issues. And together they accomplished a lot, said Sara Rosenbaum of George Washington University.
"Their joint accomplishments on behalf of working poor families and children and pregnant women and people with disabilities and the frail elderly just simply cannot be overstated," she said.
During the 1980s and 1990s, Waxman managed to use budget-cutting bills to expand coverage for many of the poorest Americans. Rosenbaum says by making the changes bit by bit over a period of years, the eventual accomplishment was large, indeed.
"Congressman Waxman, with the great leadership and support of Congressman Dingell, made it possible for an additional 15 to 20 million children to be covered by Medicaid," Rosenbaum said.
A Keen Negotiatior
Waxman is known best, though, as a keen negotiator. John Green, who works for the National Association of Health Underwriters, says he was pleasantly surprised to be able to overcome the congressman's early opposition to a long-term-care insurance program.
"So, I think that while some people in town fear this change, he's proven — to me anyway — that we can find compromises and get things done," Green said.
Waxman also can get what he wants from his colleagues on Capitol Hill — particularly in the Senate. Former GOP Sen. Dave Durenberger says Waxman was always the best-prepared member at the House-Senate conference table — and almost always got the better of the senators he faced off against.