Rural America To Obama: Remember Us
Rural America To Obama: Remember Us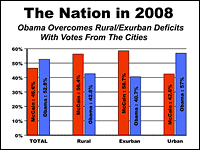 Memo To The President
In this occasional series, NPR will follow the transition from one administration to another through a series of stories, conversations, commentaries and essays that will outline the many issues and challenges facing the new occupant of the White House. From a broken military to a troubled economy to a National Park Service in need of a major overhaul — we'll provide the briefing paper, the options and the obstacles.
Web Resources
Fifty million Americans live in the nation's smallest and most remote places. Most of those who voted on Election Day chose Republican presidential candidate John McCain, who won rural counties by near-landslide proportions.
That has some wondering whether President-elect Barack Obama will pay much attention to rural issues.
"I think most rural Americans would be fearful of the possibility [Obama's] not really interested in them. He comes out of Chicago and is a big-city politician," says James Gimpel, a professor of government at the University of Maryland and a native of rural South Dakota and Nebraska. "Rural Americans probably aren't looking for a lot out of this administration. ... They can see for themselves who won. And it didn't seem to be rural America in this last election."
Promises From The Candidate
But candidate Obama promised to focus attention on rural issues while campaigning in Iowa in October 2007. He pledged to hold a "rural summit" and deliver a package of rural initiatives to Congress in his first 100 days as president.
"What's good for rural America will be good for America. The values that are represented ... are values that built America, and we've got to preserve them," Obama told a crowd in Amana, Iowa.
"He really propelled himself onto the national stage, in part, by campaigning for fundamental change in farm and rural policy in the state of Iowa," notes Chuck Hassebrook, executive director of the Center for Rural Affairs, a Nebraska-based advocacy group for small towns and small and family farms.
Iowa Democrats gave Obama his first presidential campaign victory. That win in the Iowa caucuses gave him legitimacy as a candidate.
The Truth About Rural Life
In public opinion surveys, most rural voters say they want the same things everyone else wants: prosperity, security and peace. But rural advocates are much more specific. And they want Obama to understand one key point about rural life.
"Reality ... for most rural people is that farming is not how we make our living," says Dee Davis of the Center for Rural Strategies, a Kentucky-based group that tries to attract attention to rural issues. "You've only got about 1 percent of rural America making their primary living on the farm. So what's important is to think about those other 99 percent and what's possible for them."
Many rural Americans are challenged by a rural economy that tanked sooner and deeper than the nation's economy. Thousands of rural manufacturing jobs have gone overseas. High energy prices have made food and long commutes more expensive. And most rural places are losing population.
So when the president-elect tackles rural recovery, he should first bridge the digital divide, says Debby Kozikowski of RuralVotes, a partisan group that campaigned for Obama.
"Internet access is not just for watching YouTube. It's an instrument of commerce and education," Kozikowski says.
In fact, rural areas lag behind cities and suburbs in access to broadband, making economic growth more difficult. Kozikowski also wants attention given to the basic infrastructure of asphalt and concrete. "Bringing us into the age of technology for new commerce and educational opportunity doesn't mean anything if you can't bring your product across a safe road or bridge."
Both moves would help "overcome the friction of distance. Or overcome the costs that are associated with distance to these locations," as Gimpel puts it. He wants the new administration to recognize something else fundamental about rural life: "Key to the rural economy really is the notion of self-employment. Self-employment is much higher in rural America than it is anywhere else," he says.
Making Rural America Stronger
Gimpel has a relatively simple suggestion that could have a big impact on main streets losing small businesses: Cut the capital-gains tax for small-business owners. He cites his own parents and their Western-wear shop in Nebraska as an example. They were forced to inflate the selling price, he says, so they could pay the capital-gains tax and still have enough money for retirement.
"They sold it at a price that made it difficult for the purchaser to then operate the business at a profit while still servicing the debt," Gimpel recalls. "Within a couple of years, that business on Main Street closed after 30 years. And this happened to a number of other businesses on the same block in the same town."
Davis has something more sweeping in mind for rural policy.
He's not expecting the same kind of help that Wall Street is receiving. "There's not going to be a bailout for rural America," Davis says. "That ship has long ago sailed."
Instead, he believes rural places should become part of the national economic recovery plan. Davis foresees rural areas focused on the renewable energy and alternative fuels the nation seeks. He envisions new markets tying local farmers to towns and cities close by. He also proposes a system for rewarding rural areas financially if the market in "pollution credits" results in the construction of power plants that pollute rural skies.
"We don't have to think of rural as a deficit. We can think of it as a strength," Davis says. "We can think of it as the way to begin to reimagine our economy."
President-elect Obama has yet to schedule a rural summit. His rural platform incorporated some of what rural advocates seek, including broadband and infrastructure upgrades, small-business support and a major role in the development of renewable fuels.
Now is the time to hold the president-elect to his promises, Hassebrook says. "It's absolutely essential that he follow through with that as president."