How Will An Urban President Handle Farm Policy?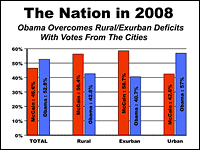 Memo To The President
In this occasional series, NPR will follow the transition from one administration to another through a series of stories, conversations, commentaries and essays that will outline the many issues and challenges facing the new occupant of the White House. From a broken military to a troubled economy to a National Park Service in need of a major overhaul — we'll provide the briefing paper, the options and the obstacles.
Web Resources
President-elect Barack Obama's past as an urban community organizer in Chicago makes some wonder how he could relate to farmers, ranchers and other rural people.
"I think the concern would be that he doesn't understand or would have much sympathy for their interests at all," suggests James Gimpel, a professor of government at the University of Maryland. "And that rural Americans would not be a very high priority in an Obama administration."
But as a senator, Obama represented Illinois, which has farm and rural regions. And his journey to the presidency began with a win in the Iowa Democratic caucus. It was during a campaign stop in Iowa that Obama released a farm and rural platform in October 2007.
"If we are really serious, we can make sure that family farmers are supported, not just big agribusiness," a casually-dressed Obama told a crowd in Amana, Iowa. "I think that we can make sure that subsidies are going to people who need it, not Fortune 500 companies."
This is the kind of campaign rhetoric that some hope will evolve into policy.
Big Farms Vs. Small
"The most important thing the president could do is simply to stop subsidizing megafarms that drive smaller operations out of business," says Chuck Hassebrook, executive director of the Center for Rural Affairs, a Nebraska-based advocacy group focused on small and family farmers.
Hassebrook wants a cap on the government payments made to farmers as part of the multibillion-dollar subsidy program. In his farm policy platform, candidate Obama included payment limits aimed at directing subsidies toward "family farmers."
But dividing farms among big and small, or family and corporate, isn't as simple as it seems, says Bob Stallman, president of the American Farm Bureau.
"Less than 2 percent of America's farms are corporate, and many of those are family corporations," Stallman notes. He calls the label "family farmer" an emotional statement. "I know family farms that farm 30,000 acres. The father and four sons have cattle interests, [a grain] elevator, and it's all one family operation."
Stallman also says it's important to remember who produces the bulk of the nation's farm products.
"The larger farmers in this country produce 80 to 85 percent of all the food, fiber and fuel," Stallman adds. "If you target policies only to small farmers, then you're excluding the vast majority of agricultural production in this country, and we don't think that's a good idea."
Farm subsidies are supposed to keep food prices down, and farmers and farm towns thriving. As costs have risen, farming has consolidated. Fewer farmers are working bigger farms. So subsidies are not achieving one goal of farm policy, says Dee Davis of the Center for Rural Strategies, a group that seeks attention to rural issues.
"The greatest out-migration in rural areas is [in] the places [that] get the highest agricultural subsidies," Davis says. "The system is not working."
It's Not Just Farmers In Rural America
Davis also wants to trim subsidies for the biggest farmers and direct the money saved to rural economic development. That's because agriculture is a relatively small part of the rural economy.
"Agriculture is a minority percentage of employment in rural America, and it has been [for] quite a long time," says Gimpel of the University of Maryland. "There has been a lot of attention paid to agriculture because [farmers and agribusiness] have well-organized interest groups defending their interests."
This clash between rural and farm interests is reinforced by the fact that the Department of Agriculture is responsible both for farm policy and rural economic development. And the Farm Bill funds both rural and farm programs.
"We've asked, in many respects, for the Farm Bill to be all things to rural America ... when in fact the world has changed quite dramatically," says Mark Drabenstott, an economist at the Rural Policy Research Institute and the University of Missouri. "We have to recognize that more and more of the things that we ask the U.S. Department of Agriculture to do are going to lie much farther beyond the farm gate."
At the American Farm Bureau, Stallman acknowledges a diminished role for agriculture in rural life, but he wants to make sure President-elect Obama isn't led astray.
"Some of those other groups are not taking into account production of food, fiber and fuel — and what that means for not only this country but other countries of the world," Stallman says. "That's where agricultural policy becomes really important, so ... you can't just exclude agriculture out of that discussion."
Stallman wants Obama to focus on limiting international barriers, such as tariffs, in agricultural trade. He wants a guest-worker program so that agribusiness can continue to employ migrant labor. And he wants a secretary of agriculture skilled in balancing competing interests.
Rural activists want an agriculture secretary willing to look beyond agribusiness. Debby Kozikowski is a Democratic activist in Massachusetts whose group, RuralVotes, campaigned for Obama in rural areas across the country.
Kozikowski hopes "he remembers that he said we need to have a Department of Agriculture, not the Department of Agribusiness. ... I'd like to see somebody who's not married to one facet of rural life, but understands the full complement that we find in rural America today."
Obama's campaign platform included both rural and farm initiatives. The agricultural planks focused on family farms, "organic and local agriculture" and "independent farmers." As a senator, Obama supported the 2008 Farm Bill, which won't expire for another four years. But as president, Obama and his secretary of agriculture will be forced to contend with these competing farm and rural interests right away, as Congress and the administration try to figure out how to fund and administer the Farm Bill's provisions.