Meeting Food Bank Demands Across The Country
The pressure is on at food banks across the country. We visit three food pantries to explore the innovative techniques they are using to meet growing demands.
In Southern California, a food pantry relies on eight tons of weekly donations from the Inland Orange Conservancy. (See photos below).
Just a few years ago, orange groves in southern California were considered useless, according to Bob Knight, founder of the IOC. But now, he says, "it looks like these old groves are having a new useful role."
Producer Ki-Min Sung follows the fruit, as it makes its way from the orchard to a local food bank.
Then, we head to northern Arizona and meet a hunter who regularly donates some of his kill to the local food bank. For Thanksgiving this year he plans to hand over six deer and an elk. Laurel Morales of member station KNAU finds that at his meat processing shop, he often talks his customers into donating a portion of their kill to the hungry.
Finally, in New Hampshire, a food pantry is going beyond offering meals and teaching cooking skills. Reporter Dan Gorenstein sees how the clients-turned-students are making out.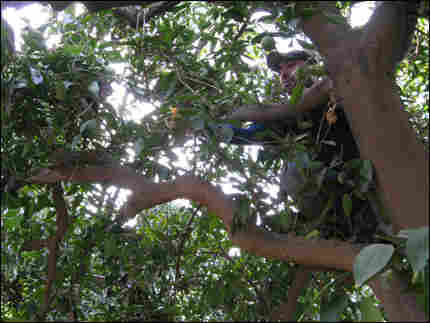 Web Resources