Blogger Bites Into Different Country Every Day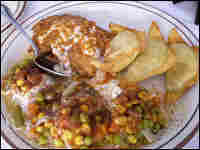 Earlier this year, 26-year-old Noah Galuten devised a challenge for himself: eat the cuisine of a different country every single day. Alex Cohen joined him on day 70 at Azeen's Afghani Restaurant in Pasadena, Calif. (See photos below).
Over cups of cardamom tea, Galuten explained the parameters of his culinary journey. Among others, he's committed to not cooking any of the food himself.
How will he know when he's completed his quest?
"I go through a full day and haven't been able to find anything new to eat in that whole day then that's it ... pop in a frozen dinner, have a glass of wine and call it a night."
But for now, the journey goes on. Thursday is day 85, American, so he's planning to eat a proper Thanksgiving dinner at home.