Indian Commandos Try To Oust Gunmen
Gunmen in Mumbai are thought to still be holding a number of foreign hostages. Indian commandos have been trading fire with the attackers. On Wednesday, gunmen armed with assault rifles and grenades fanned out across Mumbai and attacked popular tourist sites, including the city's top two luxury hotels.
STEVE INSKEEP, Host:
It's Morning Edition from NPR News. I'm Steve Inskeep. People in Mumbai returned to work this morning, even thought reports of fighting are still sweeping the Indian city. And even though authorities say some of those reports were false, some continuing military operations are very real today. In a moment, we'll talk with one of Mumbai's best-known writers about the crisis. First, we'll hear from NPR's Philip Reeves. He followed the attempted rescue operation at a Jewish center, one of the locations targeted by gunmen. The AP is reporting that authorities say five hostages died there.
PHILIP REEVES: The assault was against a scruffy, five-story building tucked in the heart of Mumbai. This is the headquarters of a Jewish center, one of 10 places targeted by the band of heavily armed Islamist militants who stormed into this city Wednesday. Today, as dawn broke, militants were still holed up inside the building.
(SOUNDBITE OF GUNFIRE)
REEVES: The commandos who conducted the assault arrived clad in black, with their faces masked by balaclavas. They belong to an elite unit from India's national security guard. Snipers were stationed on buildings nearby. Soon, gunfire and explosions began to echo across the rooftops. Shooting like this has been going on all morning.
(SOUNDBITE OF GUNFIRE)
REEVES: And occasional explosions also.
(SOUNDBITE OF AN EXPLOSION)
REEVES: This is coming from the building in which the Jewish center is located, about 500 yards from here. Commandos arrived by helicopter at around 7 this morning. They were dropped onto the roof. There were three batches of them and about half a dozen commandos each time. And for the last few hours, they've been apparently working their way downwards through the building. The center, home to an ultra-orthodox Jewish outreach group, is close to Mumbai's waterfront.
(SOUNDBITE OF GUNFIRE)
REEVES: The surrounding streets and alleyways are usually buzzing with life. Mumbai is one of the most overcrowded cities in the world but today, this part of the city was almost deserted and eerily hushed but for the sound of crows and bullets. The residents of India's industrial and commercial capital seem simultaneously gripped and appalled by the unreal drama going on before their eyes. Many of them watched it play out through the windows of their high-rise apartments or from the surrounding rooftops. In a hotel close to the shootout, foreign tourists stayed inside watching the siege coverage on TV as an Indian general expressed his sympathies, accompanied by nearby gunfire.
G: I would also like to especially mention the grief of the people of India towards our guests from other nations who are here. Very strangely, the objectives which have been targeted were frequented by guests from other nations.
REEVES: The people of Mumbai are putting a brave face on all this. They've been the victims of mass-terrorist attacks before. In 2006, several hundred people were killed by bombs that detonated on commuter trains. Rickshaw driver Anthony Sebastian(ph) says the city is determined to rebound just as it has in the past.
M: We are in (unintelligible) one, they will not succeed.
REEVES: They will not succeed?
M: They will not succeed, and - anyhow, they will not succeed, because we are one spirit.
REEVES: But these events are a severe blow to India. Mumbai is the engine room of the country's economy. India was booming, but its rapid growth rate has been sharply slowed by the global financial meltdown. The desire to inflict more economic damage, says businessman Nicki Patel(ph), may be why the militants chose this city for their multipronged attack.
M: It's amazing. It's just something which nobody can imagine. I guess India is growing, you know, as an economic power, so there are some vested interests in neighboring countries. And you know, we've been having this problem, so I think it is just disrupting the whole economy.
REEVES: As the hours passed, recriminations are beginning to fly. India's media and its opposition politicians are asking how such a heavily armed group of militants was able to execute a very large and intricate operation without being caught by the intelligence services. Phillip Reeves, NPR News, Mumbai.
NPR transcripts are created on a rush deadline by Verb8tm, Inc., an NPR contractor, and produced using a proprietary transcription process developed with NPR. This text may not be in its final form and may be updated or revised in the future. Accuracy and availability may vary. The authoritative record of NPR's programming is the audio record.
Hostages Found Dead In Mumbai Jewish Center
Pedro Ugarte/AFP/Getty Images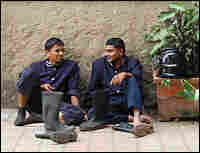 The number of dead from a spate of militant attacks across India's financial capital, Mumbai, rose to 150 on Friday, after commandos who stormed the headquarters of a Jewish sect discovered the bodies of five hostages inside.
Four Americans are also among the dead in about 10 attacks that started Wednesday night and which India has blamed on Islamic extremists. The main targets were the Taj Mahal Palace and Oberoi luxury hotels, which are frequented by foreign and Indian business travelers.
Officials said the Americans were among 22 foreigners killed in the attacks.
Indian commandos emerged from the Mumbai Jewish center late Friday with their assault rifles raised. Inside, though, were five dead hostages, according to Israel's ZAKA emergency medical services unit, which entered the building after the raid and reported through an Indian aide that five hostages and two gunmen were dead.
A Brooklyn-based rabbi and his wife were among those killed in the siege.
"Rabbi Gavriel and Rivka Holtzberg, the beloved directors of Chabad-Lubavitch of Mumbai, were killed during one of the
worst terrorist attacks to strike India in recent memory," the Chabad's New York headquarters said in a statement.
By Friday evening, at least nine gunmen had been killed, one had been arrested and as many as six were still in the Taj Mahal, said R. Patil, a top official in Maharashtra state, where Mumbai is the capital. He said more than 150 people had been killed and 370 injured.
Meanwhile, operations were ongoing at Mumbai's famed five-star Taj Mahal Palace Hotel.
Navy commandos told reporters that gunmen inside the Taj were firing indiscriminately — and that they seemed very familiar with the layout of the hotel.
Earlier, India's National Security Guard said it had taken control of the Oberoi Hotel. Guests who had been holed up since Wednesday emerged from the hotel and another two dozen bodies were recovered inside.
The well-coordinated strikes by small bands of gunmen starting Wednesday night left the city shell-shocked. Late Thursday, after about 400 people had been brought out of the Taj, officials said it had been cleared of gunmen.
From NPR staff and wire reports