Gunfire Heard In Mumbai For Third Day
The attacks in Mumbai are part of a rapid escalation in terror attacks in India in recent years by a variety of groups. Indian commandos have been exchanging gunfire with militants for a third day. Two years ago, Mumbai was hit by a series of deadly train bombings. Kalpana Sharma, an independent journalist in Mumbai, tells Steve Inskeep what these attacks mean for Mumbai, and for the rest of India.
STEVE INSKEEP, host:
It's Morning Edition from NPR News. Good morning. I'm Steve Inskeep. Two news reports from the same source offer a sense of the tangled situation in Mumbai. Earlier today, an Indian general said the giant Taj Mahal Hotel was totally flushed out of the militants who attacked it. A short time later, according to the newspaper The Hindu, a massive explosion and gunfire were heard just outside that same hotel. This is still a story in progress. Numerous buildings were attacked, and gunfire has stretched into a third day. In a moment, we'll ask where the evidence may lead investigators. First, we'll get a sense of what the attacks mean for Mumbai. Kalpana Sharma is an independent journalist in Mumbai. Welcome to the program.
Ms. KALPANA SHARMA (Journalist, Mumbai): Hello, yes.
INSKEEP: What have you seen today?
Ms. SHARMA: The latest that we have heard is that there is still one gunman inside the Taj Mahal Hotel. And every half an hour or so, you'll hear an explosion, and there is an exchange of gunfire. But the Trident and the Oberoi, which are two hotels next to each other, have been cleared.
INSKEEP: And how has it affected the city to have military operations on the streets now for a third day?
Ms. SHARMA: You know, the military operations are really restricted to one small district at the southern tip of Bombay. I think a lot of people outside India don't understand that Bombay is a very big city and in fact, offices are working, the stock exchange was working today. So just again in the southern tip of Bombay, there has been a little bit of panic and people have shut down. But at the same time, this kind of attack has been really chilling. And in fact, right now the cable networks in, again, in the southern part of the city, have been switched off.
INSKEEP: Excuse me. The authorities have shut off the cable TV networks so that people aren't getting the latest news, which might be inaccurate - that's the fear?
Ms. SHARMA: Yeah, in the southern part of the city. They just switched them off.
INSKEEP: Kalpana Sharma, I understand that you had been reporting on some of the victims of this attack, in particular, a man who was a state anti-terrorism chief. Who was he?
Ms. SHARMA: His name was Hemant Karkare. He was the head of the anti-terrorism squad. And from what I know of him, from having spoken to other police officers, he was really respected as one of the best and the most upright policemen around. And he's the one who was held responsible not just for tracking down the group called the Indian Mujahideen - which is held responsible for some earlier bomb blasts in Delhi, in Ahmedabad, in Jaipur - but for the first time having pinpointed that there are Hindu right-wing groups that have also been involved in bomb blasts in some places: in Maharaja, in Hyderabad, and possibly also on the train between India and Pakistan.
So this was a new development, which had only taken place as of the last two or three months. And he was under attack from a lot of the Hindu right-wing politicians. In fact, just the night this happened, I was told by a senior policeman that he was really upset, that he was being attacked and questioned about his integrity. And just that night he got killed. I mean, it really is one of those strange things that - here is a man who is attacked from both sides. He was on the hit list of the Mujahideen groups, and he was also being criticized by the Hindu right-wing groups. And he gets shot three times in the chest.
INSKEEP: And, of course, you're referring to the division between some Hindus and Muslims in India. If he's the chief of the anti-terrorism squad and he was shot three times in the chest, I wonder if that suggests something of how he led. He did not send men into a building, it sounds like he went himself.
Ms. SHARMA: Yeah, yeah. He was exactly that type of person. He led the whole group. The television was showing him getting ready to go into one of the hospitals, which is located between the train station, where these gunmen first opened fire and a big clock in, where there's a cinema hall. And apparently, one of these gunmen came and just indiscriminately sprayed bullets. And Mr. Karkare was in his car, and he was shot as a result of this. And two other very senior policemen have also died. So, altogether so far 14 policemen have been killed over the last 40 hours in the city.
INSKEEP: Kalpana Sharma is an independent journalist in Mumbai. Thanks very much for your insights.
Ms. SHARMA: Thank you.
NPR transcripts are created on a rush deadline by Verb8tm, Inc., an NPR contractor, and produced using a proprietary transcription process developed with NPR. This text may not be in its final form and may be updated or revised in the future. Accuracy and availability may vary. The authoritative record of NPR's programming is the audio record.
Hostages Found Dead In Mumbai Jewish Center
Pedro Ugarte/AFP/Getty Images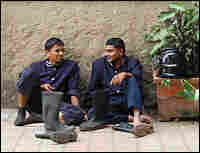 The number of dead from a spate of militant attacks across India's financial capital, Mumbai, rose to 150 on Friday, after commandos who stormed the headquarters of a Jewish sect discovered the bodies of five hostages inside.
Four Americans are also among the dead in about 10 attacks that started Wednesday night and which India has blamed on Islamic extremists. The main targets were the Taj Mahal Palace and Oberoi luxury hotels, which are frequented by foreign and Indian business travelers.
Officials said the Americans were among 22 foreigners killed in the attacks.
Indian commandos emerged from the Mumbai Jewish center late Friday with their assault rifles raised. Inside, though, were five dead hostages, according to Israel's ZAKA emergency medical services unit, which entered the building after the raid and reported through an Indian aide that five hostages and two gunmen were dead.
A Brooklyn-based rabbi and his wife were among those killed in the siege.
"Rabbi Gavriel and Rivka Holtzberg, the beloved directors of Chabad-Lubavitch of Mumbai, were killed during one of the
worst terrorist attacks to strike India in recent memory," the Chabad's New York headquarters said in a statement.
By Friday evening, at least nine gunmen had been killed, one had been arrested and as many as six were still in the Taj Mahal, said R. Patil, a top official in Maharashtra state, where Mumbai is the capital. He said more than 150 people had been killed and 370 injured.
Meanwhile, operations were ongoing at Mumbai's famed five-star Taj Mahal Palace Hotel.
Navy commandos told reporters that gunmen inside the Taj were firing indiscriminately — and that they seemed very familiar with the layout of the hotel.
Earlier, India's National Security Guard said it had taken control of the Oberoi Hotel. Guests who had been holed up since Wednesday emerged from the hotel and another two dozen bodies were recovered inside.
The well-coordinated strikes by small bands of gunmen starting Wednesday night left the city shell-shocked. Late Thursday, after about 400 people had been brought out of the Taj, officials said it had been cleared of gunmen.
From NPR staff and wire reports