Security In Mumbai: An Impossible Task?
Security In Mumbai: An Impossible Task?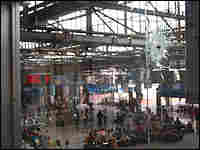 Among the many images that haunt the mind in the aftermath of the Mumbai massacres, one stands out: a grainy photo of two clean-shaven men with neat, short hair.
They're entering a railway station where they will slaughter dozens of people. Each has an automatic rifle in his right hand. They're smartly dressed, and one has a blue backpack. They appear to be walking.
They look fresh-faced and very young; they could almost be students.
Shots Through The Window
Fongin Fernandes manages a restaurant at the Chhatrapati Shivaji Terminus station — or CST, as many here call it.
Last Wednesday night, Fernandes saw the gunmen coolly open fire.
"The shots were coming, and suddenly we've seen two guys standing there," Fernandes recalls. They were less than 20 yards away. "One had a jacket, the other one was quite heavily built, but the other was a lean guy. They were young, what, about 22 years old."
The bullets flew through Fernandes' restaurant.
"I got little glass splinters in my hair, and my pocket was full of glass powder," Fernandes says. He told his customers to crawl on the floor to safety.
Officials in India now say only 10 gunmen took part in the onslaught on Mumbai. They're trying to figure out how so few managed to kill so many. Who was the mastermind? Where did the gunmen come from?
There are reports here that the militants arrived in the waters off Mumbai in a hijacked trawler. The Indian media is broadcasting pictures of the body of a man lying facedown, with his hands tied.
They say this was the trawler captain and allege that his vessel carried the gunmen from Pakistan.
Today, Mumbai's CST station is returning to normal.
Coming Back To Life
Nowhere is better proof of the ability of the city of Mumbai and India to rebound after a massive attack. This is just a couple of days after it happened, and already a railway terminal — one of the busiest in the world — is getting back to business.
The snack bars are open, and there are lines at the ticket terminals again. A small crowd of women in brightly colored saris smiles and chats. But you can tell there has been a serious incident here.
The clue to that is the number of police officers and security forces stationed around the terminal. They're carrying automatic weapons, and there are a lot of them. Some of them are positioned behind sandbags.
Yet this railway station is as vulnerable as ever as passengers walk in carrying bags without being checked.
"We have to clearly blame the government for this," says Pravin Gupta, a customer in Fernandes' restaurant. "What happened here could have been avoided."
Gupta is a consultant for hotels and airlines. Security is part of his work. He travels through this station regularly and isn't impressed.
"We have about 106 police personnel at any given time at the station. And all they're interested in is when the bosses come up and down, they're at attention with the carbine," Gupta says. "And when he goes away, they're not bothered. They have so many screening metal detector machines. Have you seen anybody using them? I mean, they're just for namesake, totally symbolic."
In the past few days, attention has been focused on two besieged five-star hotels frequented by foreigners and the Indian elite. Gupta says other victims are being forgotten.
"Today, people are talking about Taj and Oberoi, but so many people died here. Is anyone talking about them? If you look at the death toll, only 22 Westerners [died] here. The death toll among Indians was much higher," Gupta says. "They were targeting anyone."
He's sitting about three inches from a bullet hole in Fernandes' window. Despite the danger he warns of, he's not worried. "It's destiny, basically," he says. "If I have to die, I could die anywhere. I've been here so often, and it's just destiny I was not here that day. One of my friends got shot down. He's on a ventilator at Bombay Hospital. It's just destiny."
Pakistan Denies Role In Mumbai Attacks
Authorities in India are trying to determine how fewer than a dozen militants managed to hold hundreds of police officers and security forces at bay during a three-day siege in Mumbai that left nearly 200 people dead, including at least five Americans.
Bodies were still being removed Saturday night from the Taj Mahal Hotel, the site of the final showdown between government forces and the militants. Workers had begun to put up plywood barriers around the hotel, but the scars of battle were still in plain view: broken windows, burnt-out walls and a few sheets and drapes hanging from windows as if they'd been used to escape.
A candlelight vigil was held on a plaza nearby, in front of the Gateway of India monument. Police say that's where the gunman came ashore Wednesday before launching the attacks. Authorities believe there were 10 gunmen, nine of whom were killed and one who was captured.
The surviving gunman is from Pakistan, adding to suspicions that India's neighbor was involved in the attacks, a claim Islamabad strongly denied.
"Pakistan stands fully committed to combat terrorism in all its forms and manifestations because we're also victims of terrorism," Pakistan's foreign minister, Shah Mehmood Qureshi, said. He added that the country would help India bring those responsible for the attacks to justice.
President Bush also pledged support, saying the terrorists would "not have the final word."
"We pledge the full support of the United States as India investigates these attacks, brings the guilty to justice and sustains its democratic way of life," he said Saturday in brief remarks at the White House after returning from a holiday weekend at Camp David.
FBI agents were sent to help investigate.
The State Department warned U.S. citizens still in Mumbai that their lives remain at risk. The attack, which is credited to Islamic militants, began on Wednesday with gun and grenade assaults centered on two luxury hotels in downtown Mumbai. According to witnesses, the attackers singled out British and American citizens. At least 195 people were killed and 295 wounded.
From NPR and wire reports