Sleevefacers Become The Album Cover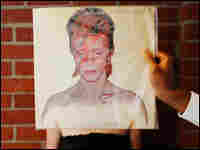 British DJ Carl Morris was just "horsing around," when he held up a Paul McCartney record to his face, grafting the famous Beatle's head to his body.
Since then, he's perfected the art of "sleevefacing" or melding one's body with an album cover. His little experiment has flourished into a Web site and book that includes photos of people sleevefacing across the world.
He tells Alex Cohen that the best creations involve "happy accidents as much as the planning" and breaks down the evolution of this unique art trend. (See photos below).