Thai Loyalists Show Strength As Tourism Falls
Thai Loyalists Show Strength As Tourism Falls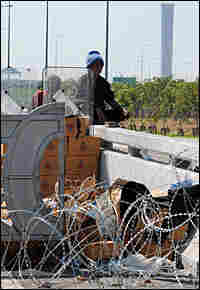 Saeed Khan/AFP/Getty Images
In Thailand, the ongoing occupation of the capital's two main airports has severed Bangkok's air links with the rest of the world.
Police have been authorized to disperse the protesters, but haven't. More than 100,000 travelers remain stranded amid growing fears of violence between the anti-government demonstrators staging the occupation and supporters of Thailand's beleaguered, but democratically elected, government.
The anti-government protesters at the airports had been getting all the attention for the past week. But on Sunday, government supporters decided it was their turn.
At least 10,000 red-shirted government loyalists filled the square outside Bangkok's city hall, listening to speaker after speaker denounce the airport occupations as part of a creeping coup organized by the elite to deprive the majority of its democratically elected government.
This is the first time the red shirts have turned out since the airport occupations began last week. And the rally was an unmistakable show of force, even a warning, that the red shirts are losing patience and may decide to take matters into their own hands.
"That's why we are here today," says a 59-year-old man, who identifies himself as Sakda. "And our leader just said an hour ago, if the police and army don't take any action, we will do it ourselves."
That is what some analysts call the worst-case scenario — open conflict between government supporters and those who oppose the government.
Early Sunday morning, a grenade was thrown into a compound of anti-government protesters near the prime minister's office downtown, wounding more than 50. No one claimed responsibility for that attack, but no one really had to — the message was clear.
It's a message that only adds to the concern of the estimated 100,000 tourists stranded by the airport closures. Some are now being bussed to a Thai military airfield 90 miles from the city where a trickle of flights have resumed. But that's little comfort to the vast majority still in limbo.
At the Qatar Airways office in central Bangkok, there were long lines of frustrated tourists looking for a way out. British backpacker Philippa Lee was due to fly out last week after three weeks spent backpacking.
"It was really good. I really enjoyed it until all this came about," Lee says. "I don't think I'd ever come back though. It's just the government — they don't seem to know what they're doing. No one is taking control, no organization whatsoever." Lee says she'll hopefully be able to be home by Christmas.
Lee's friend, Anita Sawyer, also enjoyed the trip — until last week.
"It was very good. We've done a lot of culture, the people were nice. But now that this has happened, it really just seems a shambles — nobody really knows what's happening, no one's helping. We're just being left to get on with it and find out information for ourselves, basically," Sawyer says.
Sawyer agrees with Lee that she'll probably never return to Thailand. "It doesn't really fill you with much faith," she says.
The Thai tourism business is reeling from the fallout of this latest political drama, which comes smack in the middle of high season — when most businesses make the bulk of their profit for the year.
"As soon as they closed the airport, both of them, we have 70 percent cancellation until now, and I expect to get more cancellation," says Pawnpansa Fargrajang, whose family runs a small bed and breakfast and cooking school just outside Bangkok.
She expects most foreigners will stay away for the next few months, even if the airport reopens, gutting her business and many others, too. Thai officials estimate the tourism industry is losing about $85 million each day the airports remain closed, and they expect tourist numbers to drop by half in the next year, threatening over 1 million jobs in the tourism sector.
Despite all of this, the government seems reluctant to use force to end the airport occupations, but some resolution may come Tuesday when Thailand's constitutional court is widely expected to rule against the government in a vote tampering case.
That would mean Prime Minister Somchai Wongsawat's party would be disbanded, and he would have to step down, satisfying the key demands of the protest organizers. That's probably enough to get the airports reopened, but it will do little to end Thailand's three-year political turmoil.