Texan Teens: Deep In The Heart Of The Classics
Texan Teens: Deep In The Heart Of The Classics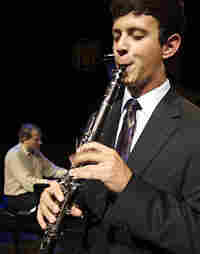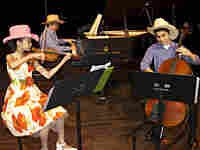 From Trinity University in San Antonio, Texas, a home-grown clarinetist plays some humorous Francaix, a trio of pre-teens plays Beethoven, and a tiny Texan with a big violin sound plays Kreisler.
Violinist Yaegy Park is a little girl with a big sound. At only 10 years old, she has already been playing the violin for seven years. She also plays piano and flute, and has recently started composing her own pieces. Park enjoys some rock music, such as the Beatles, but prefers classical to most other genres.
"The sound comforts me, and when I play classical music, I like the way people react to it," she says.
Playing music is by far Park's favorite thing to do, but she still manages to find time to pursue other activities. She loves school and excels at math, especially mental math ("the stuff you do in your head," she says.).
A recipient of the Jack Kent Cooke Young Artist Award., Park plays "Praeludium and Allegro (In the Style of Pugnani)," by Fritz Kreisler , accompanied by pianist Christopher O'Riley .
Clarinetist Sam Almaguer, 17, is a superb classical player, but during the school year he focuses much of his attention on his school's marching band of almost 300 players.
Not only does the marching band play at half-time during sporting events, they put together elaborate productions requiring intricate choreography that they take to competitions. Almaguer says it's a huge commitment, but also lots of fun and a good way to make friends.
In his classical studies, Almaguer has recently begun re-examining his technique.
"I've started to realize there's more to playing than notes and rhythms," he explains. "It's what is between the notes that creates nuances in the playing. I think it's one thing that makes a great player stand out from a good player."
Almaguer performs "Theme and Variations," by Jean Francaix, accompanied by Christopher O'Riley.
The three very young musicians of Trio Con Brio are all students at the New England Conservatory Preparatory School. They are: violinist Yuki Beppu (nicknamed "Zucchini" by her trio-mates), pianist Daniel Kim (nicknamed "Master of Disaster"), and cellist Harry Doernberg (who used to be nicknamed "Short McShort Short" until a recent growth spurt earned him the new nickname "Average McAverage Average").
Beppu, Kim and Doernberg are close friends and have no trouble poking fun at one another. One element of their music making that usually incites ribbing is Kim's tendency to play his part louder than necessary.
"I sit in the belly of the piano and can't even hear myself play," Doernberg explains.
"Sometimes I'll play loud just to get on their nerves, but most of the time I just like to play loud because my part sounds so nice," counters Kim.
Beppu has no qualms about telling Kim to play softer. "I just tell him to shut up," she says.
The trio plays the finale from Beethoven 's Piano Trio, Op. 1, No. 3.
Pianist Thomas Steigerwald is a genuine country boy who happens to love classical music. He started playing the piano when he was five and began lessons a year later with the teacher he still has to this day, Kenneth Thompson.
"Mr. Thompson wasn't planning on taking new students," recalls Steigerwald 's mom, "but he stuck some Bach under Thomas's nose, and the little bitty pipsqueak was able to play it!"
Music is always playing in the Steigerwald household.
"We listen to a lot of classical music and we like to sing and harmonize hymns together," says the 15-year-old pianist, who also sings in his church choir, plays ragtime piano, and has worked as an accompanist and a church pianist.
When he's not concentrating on music, Steigerwald likes to help out on his neighbor's pig farm.
"I've had a lot of unique opportunities," he says. "Most people don't work on a pig farm and play classical piano!"
Steigerwald performs Mily Balakirev's Islamey: an Oriental Fantasy.
Seventeen-year-old cellist Ben Lash appeared on From the Top's radio show six years ago with a young string quartet that included his brother, Nick. On that show, he and Nick talked about how their dad would bribe them to practice using M&Ms.
"These days I'm more self motivated," promises Ben. "I still enjoy the occasional M&M, but my taste has evolved. Now I prefer expensive dark chocolate."
Lash 's cello playing has also evolved considerably. He is now the principal cellist of the Evanston Township High School Symphony and the Chicago Youth Symphony Orchestra.
He plays "Capriccio" by Lukas Foss, accompanied by Christopher O'Riley.