Finding Health Insurance Can Be Tricky For Grads
Finding Health Insurance Can Be Tricky For Grads
Graduating and Worried About Health Insurance?

As of February 2008, 30 states have passed legislation to extend the age or conditions under which young adults can remain on their parents' health insurance plans.
"Unless a state has passed a law stating what the age of dependency is, it's largely up to the insurance companies," said Jennifer Libster, a lawyer and an analyst with Georgetown University's Health Policy Institute.

Check out the NCSL Web site to see if your state lets children stay on parent's health insurance.

Volunteering And Health Care Options
An increasing number of young adults are choosing to volunteer. Click to read about the health insurance coverage some major organizations offer their volunteers.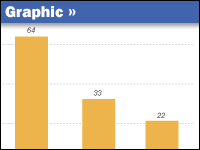 For those who have aged out of their parents' health plan — and don't get benefits through an employer — the best option is to shop around for an individual health plan, experts say.
Lacey Schweitzer, 29, a part-time massage therapist and waitress in Denver, went almost seven years with no insurance.
"I thought I couldn't afford it," says Schweitzer.
But then she found an HMO through Kaiser Permanente in Colorado. The plan costs about $100 per month.
Schweitzer says she couldn't afford a premium plan — and she didn't anticipate needing to see specialists — so the preventive care plan from Kaiser Permanente is a good fit.
"I can go to the doctor and do a co-pay. And I can get a prescription if I'm sick," she says.
Schweitzer says the policy gives her peace of mind.
One place to start shopping for individual health plans is eHealthInsurance.com.
"There are lots of plans being offered out there," says Jennifer Libster, a lawyer and analyst at Georgetown University's Health Policy Institute. "But I think it can be very confusing."
A general rule of thumb is that the higher the monthly premium and the lower the deductible, the more coverage a policy offers. But plans vary. And the devil is in the details.
"It's important to sit down and read your plan," says Libster. There can be lots of surprises when you sift through the details.
Buyer Beware: Four Key Caveats
Individual health plans are generally less comprehensive than job-based group coverage, says Mila Kofman, superintendent of insurance for the state of Maine.
"They are skimpier and typically less secure than group coverage," she says.
1. Annual Caps
Kofman says it's important to look at the annual cap on the policy. Typically, individual plans have lower annual caps and lower lifetime benefits than group coverage offered to employees through a workplace.
If the policy has a $50,000 annual cap and you end up needing a major surgery, "there could be a lot of out-of-pocket costs," she says.
2. Per-Incident Deductible
Sometimes individual plans include a "per-incident" deductible. So, if your "incident deductible" is $3,000 and you end up in the hospital three times in one year, you'd end up paying $9,000.
Kofman says per-incident deductibles are not as common under group policies.
3. Office Visits Not Counting Toward The Deductible
Look at how the deductible is calculated. Some plans exclude office visits. Under this scenario, the fees you pay to see a doctor don't count toward the deductible. This means the tally on the deductible doesn't kick in until you need in-patient care.
4. Workplace Exclusions
It is not uncommon for individual plans to exclude coverage for workplace-related injuries and illnesses. Sometimes they are broadly worded to exclude coverage related to injuries and illnesses arising out of employment or any activity done for compensation, profit or gain.
Maliha Nowrouz, 28, purchased an individual health plan from Humana. Her premium is $90 per month. She says she was surprised to read the workplace exclusion in her policy.
"I'm paying my bill," says Nowrouz referring to her premium. So she expects the insurance company to act in good faith.
In an e-mail, Humana spokesman Jim Turner explained that the workplace exclusion is "simply an effort to distinguish between what workers' comp covers and what the health plan covers."
In Virginia, where Nowrouz is insured, state law requires employers with three or more employees to purchase and maintain workers' compensation insurance for their employees.