Excerpt: 'Downtown Owl'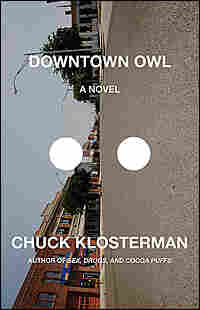 Downtown Owl: A Novel
By Chuck Klosterman
Hardcover, 257 pages
Simon & Schuster
List price: $24.00
August 15, 1983 (Mitch)
When Mitch Hrlicka heard that his high school football coach had gotten another teenage girl pregnant, he was forty bushels beyond bamboozled. He could not understand what so many females saw in Mr. Laidlaw. He was inhumane, and also sarcastic. Whenever Mitch made the slightest mental error, Laidlaw would rhetorically scream, "Vanna? Vanna? Are you drowsy, Vanna? Wake up! You can sleep when you are dead, Vanna!" Mr. Laidlaw seemed unnaturally proud that he had nicknamed Mitch "Vanna White" last winter, solely based on one semifunny joke about how the surname "Hrlicka" needed more vowels. Mitch did not mind when other kids called him Vanna, because almost everyone he knew had a nickname; as far as he could tell, there was nothing remotely humiliating about being called "Vanna," assuming everyone understood that the name had been assigned arbitrarily. It symbolized nothing. But Mitch hated when John Laidlaw called him "Vanna," because Laidlaw assumed it was humiliating. And that, clearly, was his goal.
Christ, it was humid. When Mitch and his teenage associates had practiced that morning at 7:30 a.m., it was almost cool; the ground had been wet with dew and the clouds hovered fourteen feet off the ground. But now — eleven hours later — the sun was burning and falling like the Hindenburg. The air was damp wool. Mitch limped toward the practice field for the evening's upcoming death session; he could already feel sweat forming on his back and above his nose and under his crotch. His quadriceps stored enough lactic acid to turn a triceratops into limestone. "God damn," he thought. "Why do I want this?" In two days the team would begin practicing in full pads. It would feel like being wrapped in cellophane while hauling bricks in a backpack. "God damn," he thought again. "This must be what it's like to live in Africa." Football was not designed for the summer, even if Herschel Walker believed otherwise.
When Mitch made it to the field, the other two Owl quarterbacks were already there, facing each other twelve yards apart, each standing next to a freshman. They were playing catch, but not directly; one QB would rifle the ball to the opposite freshman, who would (in theory) catch it and immediately flip it over to the second QB who was waiting at his side. The other quarterback would then throw the ball back to the other freshman, and the process would continue. This was how NFL quarterbacks warmed up on NFL sidelines. The process would have looked impressive to most objective onlookers, except for the fact that both freshman receivers dropped 30 percent of the passes that struck them in the hands. This detracted from the fake professionalism.
Mitch had no one to throw to, so he served as the holder while the kickers practiced field goals. This duty required him to crouch on one knee and remain motionless, which (of course) is not an ideal way to get one's throwing arm loose and relaxed. Which (of course) did not really matter, since Coach Laidlaw did not view Mitch's attempts at quarterbacking with any degree of seriousness. Mitch was not clutch. Nobody said this, but everybody knew. It was the biggest problem in his life.
At 7:01, John Laidlaw blew into a steel whistle and instructed everyone to bring it in. They did so posthaste.
"Okay," Laidlaw began. "This is the situation. The situation is this: We will not waste any light tonight, because we have a beautiful evening with not many mosquitoes and a first-class opportunity to start implementing some of the offense. I realize this is only the fourth practice, but we're already way behind on everything. It's obvious that most of you didn't put five goddamn minutes into thinking about football all goddamn summer, so now we're all behind. And I don't like being behind. I've never been a follower. I'm not that kind of person. Maybe you are, but I am not.
"Classes start in two weeks. Our first game is in three weeks. We need to have the entire offense ready by the day we begin classes, and we need to have all of the defensive sets memorized before we begin classes. And right now, I must be honest: I don't even know who the hell is going to play for us. So this is the situation. The situation is this: Right now, everybody here is equally useless. This is going to be an important, crucial, important, critical, important two weeks for everyone here, and it's going to be a real kick in the face to any of you who still want to be home watching The Price Is Right. And I know there's going to be a lot of people in this town talking about a lot of bull crap that doesn't have anything to do with football, and you're going to hear about certain things that happened or didn't happen or that supposedly happened or that supposedly allegedly didn't happen to somebody that probably doesn't even exist. These are what we call distractions. These distractions will come from all the people who don't want you to think about Owl Lobo football. So if I hear anyone on this team perpetuating those kinds of bullshit stories, everyone is going to pay for those distractions. Everyone. Because we are here to think about Owl Lobo football. And if you are not thinking exclusively — exclusively — about Owl Lobo football, go home and turn on The Price Is Right. Try to win yourself a washing machine."
It remains unclear why John Laidlaw carried such a specific, all-encompassing hatred for viewers of The Price Is Right. No one will ever know why this was. Almost as confusing was the explanation as to why Owl High School was nicknamed the Lobos, particularly since they had been the Owl Owls up until 1964. During the summer of '64, the citizens of Owl suddenly concluded that being called the Owl Owls was somewhat embarrassing, urging the school board to change the nickname to something "less repetitive." This proposal was deeply polarizing to much of the community. The motion didn't pass until the third vote. And because most of the existing Owl High School athletic gear still featured its long-standing logo of a feathered wing, it was decided that the new nickname should remain ornithological. As such, the program was known as the Owl Eagles for all of the 1964-1965 school year. Contrary to community hopes, this change dramatically increased the degree to which its sports teams were mocked by opposing schools. During the especially oppressive summer of 1969, they decided to change the nickname again, this time becoming the Owl High Screaming Satans. (New uniforms were immediately purchased.) Two games into the '69 football season, the local Lutheran and Methodist churches jointly petitioned the school board, arguing that the nickname "Satan" glorified the occult and needed to be changed on religious grounds; oddly (or perhaps predictably), the local Catholic church responded by aggressively supporting the new moniker, thereby initiating a bitter feud among the various congregations. (This was punctuated by a now infamous street fight that involved the punching of a horse.) When the Lutheran minister ultimately decreed that all Protestant athletes would have to quit all extracurricular activities if the name "Satan" remained in place, the school was forced to change nicknames midseason. Nobody knew how to handle this unprecedented turn of events. Eventually, one of the cheerleaders noticed that the existing satanic logo actually resembled an angry humanoid wolf, a realization that seemed brilliant at the time. (The cheerleader, Janelle Fluto, is now a lesbian living in Thunder Bay, Ontario.) The Screaming Satans subsequently became the Screaming Lobos, a name that was edited down to Lobos upon the recognition that wolves do not scream. This nickname still causes mild confusion, as strangers sometimes assume the existence of a mythological creature called the "Owl Lobo," which would (indeed) be a terrifying (and potentially winged) carnivore hailing from western Mexico. But — nonetheless, and more importantly — there has not been any major community controversy since the late sixties. Things have been perfect ever since, if by "perfect" you mean "exactly the same."
Mitch and the rest of the Lobos clapped their hands simultaneously and started to jog one lap around the practice field, ostensibly preparing to perform a variety of calisthenics while thinking exclusively about Owl Lobo football and not fantasizing about The Price Is Right. But such a goal was always impossible. It was still summer. As Mitch loped along the sidelines, his mind drifted to other subjects, most notably a) Gordon Kahl, b) the Georgetown Hoyas, c) how John Laidlaw managed to seduce and impregnate Tina McAndrew, and d) how awful it must feel to be John Laidlaw's wife.
Excerpted from Downtown Owl by Chuck Klosterman. Copyright © 2008 by Chuck Klosterman. Excerpted with permission of Simon & Schuster. All rights reserved.
Books Featured In This Story
Hardcover, 275 pages |
purchase
Buy Featured Book
Title

Downtown Owl

Author

Chuck Klosterman
Your purchase helps support NPR programming. How?