The Streets: Almost Unbearably Upbeat
Thursday's Pick
Song: "Everything Is Borrowed"
Artist: The Streets
CD: Everything Is Borrowed
Genre: Hip-Hop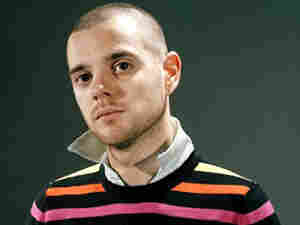 A one-man English rap crew known as The Streets, Mike Skinner adopted a rowdy, intoxicated persona on his 2002 debut, Original Pirate Material. That work and its two follow-ups made Skinner a star, so on his fourth album, 2006's The Hardest Way to Make an Easy Living, he mainly addressed the perils of fame. (It didn't help that he was still abusing drugs.) On his new Everything Is Borrowed, however, he seems at ease spiritually, and focused on appreciating what he has in his life.
That's especially clear on the disc's title track, a hip-hop power ballad so positive and uplifting, it borders on corny. "My time on this earth is my only penny," Skinner raps in his slow English twang, adding, "Wise is the gent counting every moment spent." Fans of The Streets' earlier work — which largely concerned pub-and-club life — may even find it cringe-worthy. And yet it's almost impossible not to fall for the song when its soaring, glockenspiel-accented chorus kicks in and Skinner (backed by Adam Love and Laura Vane) belts out the refrain, "I came to this world with nothing / And I leave with nothing but love / Everything else is just borrowed." Having set aside his world-weary cynicism, Skinner invites listeners to do the same. It's hard not to take him up on the offer.
Listen to yesterday's Song of the Day, and subscribe to the Song of the Day newsletter.
This story originally ran on Dec. 4, 2008.