U.S. Unemployment at 15-Year High
Jim Zarroli And Renee Montagne Discuss The Unemployment Report On 'Morning Edition'
The Labor Department says the U.S. economy lost more than a half-million jobs in November. It was the steepest drop in nearly a quarter-century. Figures show that 533,000 jobs were lost last month, pushing the unemployment rate to 6.7 percent. That's a 15-year high. It's proof that the recession, already a year old, is getting deeper.
RENEE MONTAGNE, host:
There is stunning news this morning about the jobs market. The Labor Department says the U.S. economy lost more than a half-million jobs in November. It was the steepest monthly drop since 1974. NPR's Jim Zarroli joins us now to talk about this. And Jim, you know, after you catch your breath, would you like to tell us if there was one particular part of the economy, I mean, like one industry that saw a huge number of job losses?
JIM ZARROLI: No, not really. I mean, every sector of the jobs market except health care just took a beating - manufacturing, construction, leisure and hospitality, you know, the retail sector, which has just been doing terribly. You know, a lot of big companies came out this week with really dismal sales figures from November. It lost 91,000 jobs, that's a huge drop. So, this isn't the kind of drop that only affects a few corners of the economy. There aren't a lot of pockets of strength.
MONTAGNE: And where does this leave the national unemployment rate?
ZARROLI: It is 6.7 percent. It was 6.5 percent. And you know, this week, the private research group the National Bureau of Economic Research determined that the recession began exactly a year ago in December 2007, so we can date this downturn from then. And since then, since the recession began, the unemployment rate has gone from 5 to now 6.7 percent.
MONTAGNE: Now, the government also raised its estimates for job losses in September and October. Adding it all up, how many jobs have been lost so far this year?
ZARROLI: Well, the Labor Department says the number of jobs lost since December 2007, since the recession began, is 2.7 million. And those numbers don't measure people who are out of work but have simply stopped looking for jobs, the discouraged workers. And a lot of economists will tell you that if you include them as well, the jobs picture is a lot worse. It just really shows the toll that the housing downturn, and the financial market crisis, the credit crunch have taken on the economy. It has just really stopped a lot of employers in their tracks. They're cutting jobs, they're not filling jobs, and there doesn't seem to be any sign that this is going to end. A lot of economists are now assuming that 2009 is going to be a pretty gloomy year.
MONTAGNE: And could these numbers change Congress' response, which has been not so great, to the U.S. auto executives who are in Washington asking for federal loans?
ZARROLI: Well, you know, it could. I mean, consider this. One of the reasons retail was down so much was that auto dealers cut 24,000 jobs. That's a really big number for a sector that size. We're just seeing auto dealers shut down. It just underscores how wide an impact the auto industry has on the economy. It's not just the people who work in the auto factories. It's much more than that. Now, there may be, you know, good reasons for not liking the bailout of the auto industry, but the fact is that this is going to affect a lot of people, and Congress is going to have to take that into account.
MONTAGNE: And just briefly, how might this affect what President-elect Obama does when he comes into office next month?
ZARROLI: Well, it really changes the economic climate that he's going to have to operate in. He's been talking about a large stimulus plan that would provide 2 and a half million new jobs, he says, mainly by funneling money in the states - to the states. This will just make it politically easier to do that and put pressure on federal officials to act quickly.
MONTAGNE: Jim, thanks very much.
ZARROLI: You're welcome.
MONTAGNE: NPR's Jim Zarroli.
NPR transcripts are created on a rush deadline by Verb8tm, Inc., an NPR contractor, and produced using a proprietary transcription process developed with NPR. This text may not be in its final form and may be updated or revised in the future. Accuracy and availability may vary. The authoritative record of NPR's programming is the audio record.
November U.S. Job Losses Highest Since 1974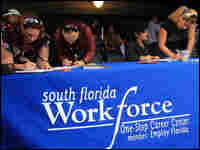 Robert Sullivan/Getty Images
The U.S. economy shed jobs at a blistering pace in November, pushing the overall unemployment rate to 6.7 percent and putting new pressure on federal officials to approve another big stimulus package sometime soon.
Employers cut 533,000 jobs from their payrolls during the month, the worst decline since December 1974 and a much bigger drop than economists had predicted.
Companies also eliminated more jobs than first thought in September and October. That brings total job losses since the recession began in December 2007 to about 2.7 million, according to the Labor Department.
"Today's employment report reflects the difficulties in our economy. It is devastating when Americans lose their jobs, and many are worried about their future job security," said Commerce Secretary Carlos Gutierrez.
"These are really God-awful numbers. The economy's headed downhill and really the brakes are not working," said Sung Won Sohn, professor of economics and finance at California State University, Channel Islands.
Nearly every sector of the employment market lost jobs, including manufacturing (85,000), professional and business services (101,000), and leisure and hospitality (76,000). Unemployment rose for both adult women (5.5 percent) and adult men (6.5 percent).
"Right now I would take anything; I'd go down to $6 or $7 [an hour] just to have a job," says Ray Ross of Nashville, Tenn., who was recently laid off from his job as a security guard. His former employer has put him on call, but he isn't getting much work.
The retail sector lost 91,000 jobs, with auto dealers alone down by 24,000, underscoring the way Detroit's troubles are filtering through the broader economy. The drop comes in a week when officials of the big U.S. automakers are on Capitol Hill seeking financial assistance, and it is likely to make it harder for Congress to turn them down.
As high as it appears, the 6.7 percent unemployment rate actually underestimates the number of people hurt by the declining jobs market, because it doesn't include people who have given up searching for work or part-timers who would like to work full time, Sohn said. The report says more than 400,000 people left the labor market this year because they believe no jobs are available, he said.
Forty-eight-year-old Edward Stewart Jr., of Kansas City, Mo., has been subsisting on day jobs and occasional temporary gigs, but he would prefer to work a full week.
"Right now, I'm searching the Web and trying to make some phone calls and trying to get some work for like a janitorial service maybe, whatever comes up," he says.
In addition, the Labor Department estimates that about 600,000 workers have simply stopped looking for jobs, up from about 259,000 a year ago.
When these two groups are included, the effective unemployment rate is actually much higher than it appears, about 12.5 percent, Sohn says.
November's big drop puts new pressure on the incoming Obama administration and Congress to approve an economic stimulus package as quickly as possible. The president-elect has talked about a plan to create 2.5 million new jobs, at least in part by funneling money to the states to pay for large infrastructure projects.
"The jobs picture painted today is staggering, and it should be all the evidence Washington needs to act swiftly and decisively to shore up this economy," said Sen. Charles Schumer (D-NY).
Bush administration officials tried to sound a more optimistic note, saying the financial rescue package put into place by the Treasury Department would ultimately help the job market. U.S. officials have taken a number of steps to try to stabilize the financial system, such as buying stock in major banks and guaranteeing certain kinds of securities.
"it's going to take time for all the actions we've taken to have their full impact, but I am confident that the steps we're taking will help fix the problems in our economy and return it to strength," said President Bush, meeting with reporters at the White House today.
"My administration is committed to ensuring that our economy succeeds, and I know that the incoming administration shares the same commitment," he added.
The gloominess of the report sent stock prices down sharply early in the day, but they later rebounded. The Dow Jones industrial average rose by 259 points, finishing at 8635.