For Discerning Couch Potatoes, The Best TV On DVD
Television on DVD has definitely arrived.
There was a time when only very successful shows — or entrenched cult shows — ever made it to DVD. Now you can spend serious money on lavishly packaged box sets of beloved classics, beloved less-than-classics, and even meritless flops no one cared about even when they were free. (Consider last season's straight-to-cancellation Bionic Woman remake: All eight broadcast episodes were released as a two-disc set entitled, with all the never-say-die moxie NBC Universal could muster, "Volume One.")
Obviously, holiday shoppers could go with the simple great TV they know about already. There are new box sets of The Sopranos and The Wire, and there's always the first season of Mad Men.
There are solid comedies, too, like 30 Rock and How I Met Your Mother, a block of which can defang a menacingly bad day. Sometimes "It's a good show" is all the reason you need.
But some of 2008's more interesting TV-on-DVD releases are worth picking up for other reasons entirely. Herewith, a highly selective list:
Because It Has New Relevance: 'Freaks And Geeks'
Freaks and Geeks: Yearbook Edition
Shout! Factory
8 discs
List price: $135.98
Before writer-producer Judd Apatow became a hitmaker in film, he was a critically beloved failure-maker in television. While his college show Undeclared is sorely missed, it's his high-school show Freaks and Geeks that put him on the map as a guy who made great shows that few people watched.

Apatow worked, for a single season, with some of the same actors he uses now — including Seth Rogen, Jason Segel and James Franco — and with creator Paul Feig, now a director for The Office. This set is actually a rerelease of a limited edition that was last available in 2004, just before the Apatow boom began with 2005's The 40-Year-Old Virgin.

The extras are, to say the least, plentiful: auditions, raw footage, deleted scenes, and the "yearbook" packaging itself, full of photos and musings from the producers about the show and its early demise. For recently minted Apatovians, or for Freaks and Geeks fans who didn't get their hands on it the first time around, it's a contender.
Because It's Better Without Commercials: 'Mythbusters'
Mythbusters: The Big Blasts Collection
Discovery Channel
2 discs
List price: $29.98
While not every episode of the Discovery Channel series Mythbusters involves making things blow up, that's certainly the specialty of the house. Exploding pants, exploding lighters and exploding toilets are only some of the allegedly true tales tested in this two-disc, 10-episode set, which boasts the same delightfully frivolous noodling around with chemicals, robot arms and ballistics-gel dummies that's familiar to viewers of the show.

Mythbusters energetically salutes the little-kid joy of doing stuff just to see what happens, often to the belly laughs of co-host Adam Savage (who plays the nut to Jamie Hyneman's straight man). But it can feel frenetic, with a very short attention span — the downside of its sense of childlike wonder. Without commercials, it's much easier to stay focused on the matter at hand, like whether you can really break through prison bars using salsa.
Because You Kept Meaning To Watch,
And Now It's Too Late: 'Pushing Daisies'
Pushing Daisies, The Complete First Season
Warner Home Video
3 discs
List price: $29.98
ABC recently pulled the plug on Pushing Daisies, an inventive comedy about life and death, the ache of romantic love between people who can't touch each other, and the importance of friendship. It's a masterpiece of tonal control, with the writing, art direction, acting and music all occupying precisely the same color-saturated, fairy-tale universe.

The complete first season carries only nine episodes — thank the writers' strike — and it's available for less than $20. If you're not up for the commitment of 20 hours of television at once (the typical network-TV season), this little mini-season is perfect, and it makes an perfect snack-sized dose of a fine show that is itself dying too soon.
Because You're In The Club: 'MST3K'
Mystery Science Theater 3000, The 20th Anniversary Edition
Shout! Factory
4 discs
List price: $59.99
Our Internet-based talk-back culture of TV-watching has many parents, but MST3K is unquestionably one of its grandparents. Sadly, they've discontinued the version of this set that came with the tin box and the little Crow T. Robot figurine. But fans of the original watching-the-watchers show — in which Joel Hodgson and later Mike Nelson watched and ridiculed terrible movies in the company of their robot pals — can still get the meat of this mighty collection.

The show's history is related in great detail through interviews with just about everyone who was involved. And there are four full episodes that have never been released on DVD before. Belonging to a cult carries certain obligations, and there's no way anyone who belonged to this one would want to be without this set.
Because It's Elusive In The Wild: 'Frisky Dingo'
Frisky Dingo, Season 1
Warner Home Video
1 disc
List price: $19.98
You haven't heard of Frisky Dingo? But it aired at midnight on Sunday nights, as part of the Adult Swim schedule on the Cartoon Network. How did you miss it?

Frisky Dingo is a superhero parody pitting shallow crusader Awesome X (the alter ego of playboy Xander Crews) against supervillain Killface. Killface is a thoroughly modern menace: His first challenge is how to get his message of terror to the public when he can't afford television time, his DVD distribution plans were torpedoed by the exorbitant costs of animated menus, and his direct-mail piece was erroneously printed to say, "Welcome To You're 'Doom.'"

Frisky Dingo is quite literally an odd little show — it airs in 15-minute blocks, so commercial-free episodes run only around 11 minutes. The Season 1 DVD carries 13, so you can easily knock them off in an evening. And you should, because unless you typically follow late-night cartoons, they'll slip right by you.
Because It Was Ahead Of Its Time: 'Sports Night'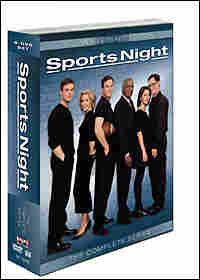 Sports Night: The Complete Series 10th Anniversary Edition
Shout! Factory
8 discs
List price: $69.98
Sports Night, more than any other single show, illustrates the evolution of half-hour comedies from broader jokefests to the drier style that's fashionable now. Over its woefully brief two-season run, the show moved deliberately along that scale, ditching its original laugh track and deepening the relationships on what was, it first appeared, a sitcom.

Unavailable in syndication and previously released only in a bare-bones set with no extras, Sports Night finally got a fuller release this year. The 10th Anniversary Edition carries interviews and commentaries from both major and minor cast members, as well as writer-producer Aaron Sorkin and director Thomas Schlamme, who rolled out Sports Night a season before they launched The West Wing.

Highlights include particularly lively banter between on-set gambling enthusiasts Josh Charles and Joshua Malina, as well as footage of a gallows-humor prank that was lovingly pulled on Robert Guillaume as he recuperated from a stroke.
Because You Remember It From Long, Long Ago:
'Little House On The Prairie'
Little House on the Prairie, The Complete Television Series
Lionsgate
60 discs
List price: $279.98
The point of including this sprawling, 60-disc set — packaged in your own covered-wagon box! — is not necessarily to argue for the greatness of Little House on the Prairie specifically, but simply to note that one of the great charms of TV on DVD is the rediscovery of shows you may have watched as a kid and largely forgotten.

Not the Seinfelds and the Law and Orders, so culturally ubiquitous that you constantly trip over them. But things like Little House, the watching of which will likely turn your brain all soft and forgiving, so that the high-octane schlock matters less than the reminiscence value. The copious extras here are thickly sentimental, just like the show itself, making the whole thing a veritable avalanche of wholesomeness.