Eighteen-Wheelers And A Health Insurance Crunch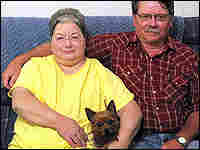 The series "American Moxie: How We Get By," tells the stories of people who are digging deep to get by in these economically precarious times. On Monday, we met an Illinois farmer who is giving up his cattle. But he can still afford his daily Dr. Pepper from the store where everyone knows his name.
If you want to find out what's going on in Flora, Ill., hang out at Huck's convenience store. Just about everyone in this small town stops there. With any luck, Sandy Higgs will be behind the counter, or working the drive-through. She's hard to miss.
Sandy Higgs looks like a teenager, with her braided pigtails and warm, open smile. As it turns out, she's a 42-year-old grandmother who works two jobs here in town — one at Huck's and the other doing routine maintenance on a small fleet of trucks.
She's comfortable among the behemoth 18-wheelers, where you'll likely find her kneeling down and checking tire pressure. Her father once owned a garage and taught his kids to "do" for themselves.
Compromises, Sacrifices And Regret
Among the things Higgs has done is raise two daughters alone. Single moms aren't unusual in this down-on-its-heels rural town. But unlike many of them, Higgs says, "I never had help with child support. I wasn't one to fight with (my ex-husbands) just for their money. It's not me."
Fiercely independent and proud, Higgs is making more than a few compromises to make ends meet. She has moved back in with her father to save money; her goal is to live closer to her daughters' homes. In the meantime, she's seeing a great deal less of them — and of her grandchildren — in order to work as many hours as she can.
As she makes her way from tire to tire, one of the truck drivers stops by to check on his rig.
Steve Walsh has been with this company for two years; Higgs started this past summer. Neither gets health care from the job.
"I've been trying to find another job through a factory here that has insurance," Higgs says. "They're not hiring. They're all moving out (of Flora)."
That brings up a looming crisis in Higgs' life: Her youngest daughter has bipolar disorder and is about to lose her insurance. For years, mother and daughter have been covered by an Illinois family insurance program, but their benefits end in a few weeks. Now Higgs worries that she won't be able to help out with the price of medication.
The subject is loaded with aching regret.
"I just wish I could have done more for my girls," she says, tears spilling. "Just made it so that they had more and didn't have to struggle, you know?"
Higgs is in a tough bind, yet unwavering about what she has to do.
"You just gotta jump right back in there and keep going," she says, wearing a very brave face. "I mean, you can't give up. I'm not a quitter."
Neither is Walsh, the truck driver. He lives in Flora with his wife, Judy, and Daisy the Yorkie. "The dog eats first," he jokes.
'Nobody Said Life Would Be Easy'
A man with a penchant for homilies, Walsh likes to quip that "nobody said life would be easy." And it hasn't been for the Walshes.
Like Higgs, they've had to cut back drastically on visits to their children and grandchildren because travel money has been hard to come by. "Just a small price to pay to make sure we have enough for everything else," Walsh says.
"Everything else" means the health insurance that Walsh, like Higgs, no longer gets through work. And it's just as vital to his family. Judy Walsh lives in pain and has been on disability for 18 years; Steve Walsh was diagnosed with cancer early in their marriage, though he has been in excellent health for decades. But two years ago, he lost a job that had badly needed medical benefits and a pension plan.
"It was a shock at 52 to be fired for the first time in my life," he says. "Judy cried, and I frowned and thought, 'Now what?' "
Yet in an economy as scary as this one, this small, solid tank of a man isn't worried. He figures he can only sink so far.
"I know how to fish. I know how to dress a cow. I will not go hungry," Walsh says. "And if it gets bad enough to get down to us, we won't be the only one in the soup line."
He will be among the lucky ones whose bowl, however empty, will always be half-full.