Author David Halberstam Killed in Car Crash
Hear Scott Simon's 1987 Profile of Halberstam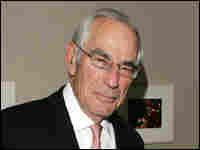 Journalists Remember a Giant
Halberstam on American Life
Noted journalist and author David Halberstam has been killed in a California car crash, the Associated Press reports.
Halberstam won the Pulitzer Prize at age 30 for his reporting on the Vietnam War. He wrote on topics as diverse as politics, sports, and American commercial culture; his books included The Best and the Brightest, The Powers That Be, and The Fifties, which became a TV series on the History Channel.
Halberstam, 73, was a passenger in a car that was struck broadside by another vehicle near a bridge in Menlo Park, in California's San Mateo County. San Mateo County Coroner Robert Foucrault told the AP that Halberstam died of massive internal injuries.
In Firehouse, Halberstam chronicled the lives lost among the firefighters of Manhattan's Engine 40, Ladder 35 on Sept. 11, 2001.
Halberstam's writing and comments on those attacks, and the Iraq war that began in 2003, suggested that he never lost the knack for incisive analysis.
In an October 2001 NPR report on American patriotism, Halberstam spoke of the "common purpose" that bound a diverse United States after the Sept. 11 attacks. Speaking one month after the attacks, he called that purpose "a slow-burning fuse."
Referring to a "spasm of almost self-conscious patriotism," Halberstam asked a question. "Will that still be there in a year, two, three, four, five years from now," he asked, "when, in fact, the struggle is likely to go on?"
Journalist Neil Sheehan often worked in Vietnam alongside Halberstam in the conflict's early days. The two remained close friends after their return. Of his colleague, Sheehan told NPR, "He was interested in everything, and he had the extraordinary energy — physical and intellectual — to get the bottom of something."