Traffic Accidents Top Cause Of Fatal Child Injuries
Traffic Accidents Top Cause Of Fatal Child Injuries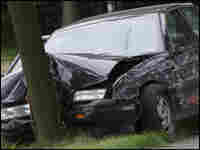 The Top Five Causes Of Unintentional Injury
1. Road crashes: Kill 260,000 children a year and injure about 10 million. They are the leading cause of death among youths ages 10 to 19, and a leading cause of child disability.
2. Drowning: Kills more than 175,000 children annually. Up to 3 million children each year survive a drowning incident. Due to brain damage in some survivors, nonfatal drowning has the highest average lifetime health and economic impact of any type of injury.
3. Burns: Fire-related burns kill nearly 96,000 children a year, and the death rate is 11 times higher in low- and middle-income countries than in high-income countries.
4. Falls: Nearly 47,000 children fall to their deaths every year, but hundreds of thousands more sustain less serious injuries from a fall.
5. Poisoning: More than 45,000 children die each year from unintended poisoning.
Source: World Health Organization and UNICEF
Nearly a million children worldwide die every year as a result of unintentional injuries, and the biggest killer is traffic accidents, according to a report from the World Health Organization.
The report said traffic accidents, followed by drowning, fires and burns, falls, and poisoning, are the five major causes of unintentional injuries. About 830,000 children under 18 die every year, and millions more children suffer disabling injuries that could have been prevented, says Dr. Etienne Krug, the director of the Department of Injuries and Violence Prevention at WHO.
Krug says that when it comes to the health and survival of children around the globe, there has been a preoccupation with infectious diseases and malnutrition. But he notes that a child who survives infancy faces a series of dangers as they get older.
"Once a child reaches age 9, injuries become the leading cause of death," Krug says. "We have a huge public health problem out there. ... It is like wiping out the entire child and adolescent population of Chicago every year."
The World Health Organization found that being on the road or in a car is dangerous for children anywhere in the world, but especially in developing countries.
The highest rate of fatalities from unintentional injuries was in low- and middle-income countries, especially in Africa, where children haven't been educated about the dangers of road traffic and aren't prepared when a new road is built through the village, according to Krug.
In Asia, deaths are most often caused by two-wheeled motorized vehicles. It is not unusual to see entire families on one motorcycle in countries such as Laos, Cambodia and Vietnam.
"When those get knocked over, you have severe injuries and even death," Krug says.
In the United States and other Western countries, injuries from road traffic accidents have been dramatically reduced through the use of helmets, child safety seats and other restraints. Still, cars and traffic remain a major cause of fatal injuries.
A Centers for Disease Control and Prevention report that was released at the same time as the WHO report says more than 70,000 young children and teens died from unintentional injuries between 2000 and 2005.
Ileana Arias of the CDC emphasizes that many unintentional injuries can be predicted and are preventable. For example, in the United States, most children drown in a pool or lake — but sometimes it's the unattended child left in the bathtub or in the backyard with a bucket of water.
"It takes very little time, with very little water for a child to drown," Arias said. "A toddler who falls into a bucket that only has 4 inches of water is going to drown if they're not pulled out."
The second leading cause of fatal injuries for children worldwide affects children in low- and middle-income countries who are surrounded by open bodies of water.
The WHO and CDC are recommending that child injury prevention be included in existing child survival and child health programs.
According to Arias, there hasn't been as much attention paid to injuries as other health issues.
"The lack of investment in unintentional injury primarily has been the thinking that they are inevitable, and that they are not as important as infectious diseases," Arias said.