Brazilians Kassin+2, Plus Italian Pizza
Kassin +2 in Studio at WNYC - 12/05/2008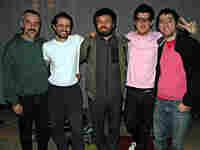 Just the Music
Kassin +2 in Studio at WNYC - 12/05/2008
Kassin +2 in Studio at WNYC - 12/05/2008
Here are two things you should know about Kassin+2's members: They like old stuff and they like good pizza.
But first, there's their sound. Kassin+2's work is partially inspired by the music created in Brazil in the '60s and '70s –- Bossa Nova, "samba soul," Brazilian Popular Music (MPB). One of the champions of that era is Caetano Veloso, the father of the band's guitarist and singer, Moreno Veloso.
But it was Domenico Lancelotti, Kassin+2's drummer, who struck me as an old-fashioned guy. He fell in love with Soundcheck's old drum kit, and was gathering our staff's recommendations in his pursuit of a vintage instrument store in Manhattan. WNYC has this new, state-of-the-art music studio, but for some, there's nothing like a unique drum kit.
And for Kassin+2, there's nothing like good Italian pizza. While waiting for their live appearance on the show, the band members ordered pizza from a place in our neighborhood called Daisy Bakery. WNYC has moved to the Hudson Square area of Manhattan since the summer, and I had never heard of this place. But when I saw the squared pieces of pizza covered with onion, potatoes, mushroom and rosemary, it was like a dream.
I asked how they found it, and they said they brought the recommendation in their luggage. So thank you, Kassin+2, for introducing me — a fellow Brazilian — to my new favorite New York pizza place, old-fashioned Italian style.
Gisele Regatao is the executive producer of WNYC's Soundcheck.
About Kassin+2
The trio of Rio de Janeiro multi-instrumentalists Alexandre Kassin, Domenico Lancelotti and Moreno Veloso (son of Brazilian pop icon Caetano Veloso) merges older forms of Brazilian pop with psychedelic and experimental sounds. Throughout three records — as Moreno+2, Domenico+2 and now Kassin+2 — all three musicians have taken turns leading the group. Their latest album, the Kassin-helmed Futurismo, was released this year.