Missing A Masterpiece? Call FBI's Art Crime Team
Missing A Masterpiece? Call FBI's Art Crime Team
Toledo Museum of Art, Toledo, Ohio
FBI: 'Top 10 Art Crimes'
Before Robert Wittman came along, the FBI treated stolen art in the same way it treated any ordinary property crime. But Wittman, a former FBI agent, saw art crime as different from a car theft or a bank robbery; it wasn't perpetrated by your average thief, and it wasn't sold to your run-of-the-mill fence or pawnbroker.
"It has got a different group of people involved in it," Wittman says. "You have to have some knowledge of what has been taken in order to determine where it might end up."
The FBI now has an entire team of agents devoted to art theft. The agents, who receive special art training, have recovered more than 850 stolen items of cultural and artistic significance. But there was a time when the FBI had just one art crimes investigator; Wittman remembers it well.
An Unexpected Calling
When Wittman joined the FBI in 1988, he never expected he would be investigating art theft. He grew up in a family of antiques dealers and knew a thing or two about art, but he didn't expect this background to translate into his new profession.
But as it happens, two of the first cases he landed as an agent involved art stolen from museums in Philadelphia: A bronze mask was taken at gunpoint from the Rodin Museum, and a crystal ball that once belonged to the Empress Dowager in China was swiped from the University of Pennsylvania Museum of Archaeology and Anthropology.
It took two years, but Wittman eventually recovered them both. The FBI responded by sending Wittman to art school and assigning him to cases that specifically involved art and art theft. For more than a decade, Wittman and Jim Wynne, an agent in New York, served as the FBI's art crimes specialists.
Art investigation and recovery at the FBI might have remained a two-person endeavor had it not been for the looting of the Baghdad Museum in 2003. Initial reports described museum guards standing by helplessly as hundreds of looters broke into the museum.
They took sledgehammers to locked glass display cases and swiped precious antiquities. Gone were some 5,000-year-old tablets with some of the first known writing. A Warka vase showing a procession going into a temple -- thought to be the earliest known depiction of a ritual -- also went missing (though it's since been returned).
The incident got the FBI's attention. Wittman and a team of agents were set up to go to Baghdad and investigate; they even attended soldier readiness training in El Paso, Texas.
"We got ready to go over," Wittman says. "But as it turns out, we didn't have to go because most of the material was found in bank vaults across the street."
So the agents trained and prepared to investigate the art crime of a lifetime, but never had the opportunity to set foot in Iraq. For Wittman, the silver lining was that the investigators he had always wanted were now a team -- a 13-person unit called the Art Crime Team.
Don't Believe The Movies
Though the job sounds like a sexy one -- conjuring up images of an art collector storing fine works of art in a cave somewhere on the other side of the world -- the reality is somewhat less glamorous. Museums in the U.S. have become so well-protected -- so heist-proof -- that museum thefts have become rare.
Bonnie Gardner, manager of the FBI's Art Theft program, says the most famous recent American art heist occurred nearly 20 years ago at the Isabella Stewart Gardner Museum in Boston. The museum lost a very prominent Rembrandt, a Vermeer and several other impressionist paintings.
"The total value of those paintings at the time was about $300 million," Gardner says of the masterpieces, which are still unrecovered.
The Toledo Museum of Art suffered a much more typical museum theft in 2006. Museum director Don Bacigalupi says he got the phone call he hoped he would never receive from a colleague at the Guggenheim.
"They said, 'The painting that you have agreed to lend us has gone missing, and we haven't received it,' " said Bacigalupi.
The missing painting was Children With A Cart by Francisco Goya -- a cartoon for a tapestry that was made for the Spanish royal family. The Toledo Museum was lending it to the Guggenheim for an exhibition in New York.
"It is a wonderful painting with a great history, and we've had the painting for some 50 years," says Bacigalupi. "It has been lent to other museums and other exhibitions around the world in those intervening decades ... This obviously was the first time it had ever gone missing."
It doesn't take much imagination to go to the stuff of movies: a sophisticated art heist, a meticulously planned caper, an inside job. But it turned out to be less of a caper than a petty crime. Wittman, who was the lead investigator on the case, explains:
"The truck taking the painting from Toledo to New York just stopped for one evening. Two drivers got out and stayed the night in a motel or hotel along the way. While they were in there, a man went into the back of the truck ... He was looking for tools or construction equipment to be stolen, and he found the crate and took the whole crate with him."
It took just 10 days to locate the painting. The thief himself called the FBI hoping to collect a reward. He claimed he found the canvas in his basement. He is now serving five years in jail for the theft.
The Toledo Museum was lucky. Usually when art is stolen, it disappears for decades.
The FBI's Top 10 Art Crimes
The security at most U.S. museums is so advanced that many are considered virtually "heist-proof." Today, most thefts occur in private collections and in museums overseas. The last major heist in the U.S. occurred in Boston in 1990. The following thefts are described in the FBI's list of the Top 10 Art Crimes.
Iraqi Museums And Archaeological Sites Looted

In the spring of 2003, thousands of priceless artifacts were stolen from Iraq's cultural institutions. Though some items have been recovered, there are still 7,000 to 10,000 artifacts missing from the Iraq National Museum, and archaeological sites continue to be looted. A 4,400-year-old statue of King Entemena (left) was recovered in 2006.
Three Rembrandt Works Stolen From Boston Museum

In March 1990, two men robbed Boston's Isabella Stewart Gardner Museum and stole art valued at $300 million. Among the stolen pieces were three works by Rembrandt, including The Storm on the Sea of Galilee (left), as well as works by Johannes Vermeer, Govaert Flinck and Edouard Manet.
Caravaggio's 'Nativity' Taken In Italy

Experts estimate Michelangelo Caravaggio's Nativity with San Lorenzo and San Francesco to be worth $20 million. In 1969, the painting was removed from its frame by two thieves at the Oratory of San Lorenzo in Palermo, Italy.
Stradivarius Stolen From Violinist's Apartment

In 1995, a $3 million violin made in 1727 by Antonio Stradivari was taken from the New York apartment of Erica Morini, a 91-year-old Austrian violinist. Morini died in October 1995 after a lifelong international career. The violin is known as the Davidoff-Morini Stradivarius.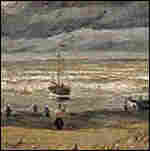 Van Gogh Theft In Amsterdam

In 2002, two thieves climbed a ladder to the roof of the Vincent Van Gogh Museum. They stole two works: View of the Sea at Scheveningen (left) and Congregation Leaving the Reformed Church in Nuenen. Two men were convicted in 2003, but the paintings have not been recovered.
Cezanne Stolen During Fireworks

While England celebrated the turn of the millennium on Dec. 31, 1999, a thief broke into the Ashmolean Museum in Oxford and stole View of Auvers-sur-Oise, a landscape painting by Paul Cezanne.
Whitney Murals Taken In Hollywood

Oil paintings that were originally commissioned for Gertrude Vanderbilt Whitney's New York mansion were stolen from a gallery in West Hollywood, Calif., in July 2002. The thieves cut the murals from their frames. The two paintings by Maxfield Parrish are estimated to be worth $4 million.
Monet, Picasso, Matisse and Dali Stolen In Rio de Janiero

In 2006, four armed men took paintings and other objects from the Museu Chacara do Ceu in Brazil. The stolen items include Claude Monet's Marine (left), Pablo Picasso's Dance, Henri Matisse's Luxembourg Garden and Salvador Dali's Two Balconies.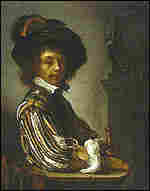 'Cavalier' Self-Portrait Disappears In Australia

In 2007, a small oil self-portrait painted on a wood panel by Frans Van Mieris was taken from a gallery in New South Wales, Australia. The painting is thought to be worth more than $1 million; it was taken from the museum during public viewing hours.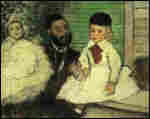 Degas, Cezanne Masterpieces Stolen In Zurich

Four works of art were stolen from Switzerland's E.G. Buhrle Collection in an armed robbery in February 2008. Two paintings were recovered, but Paul Cezanne's Boy In The Red Vest and Edgar Degas' Count Lepic And His Daughters are still missing.