Recession Etiquette: Tipping When Money Is Tight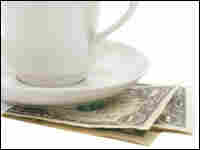 From barbers to bartenders, people who work for tips may find themselves with empty pockets during this economic downturn. Is it OK to leave smaller tips in a recession? And if you rely on gratuities, are you earning less for the same service?
Kimberly Palmer, a senior editor at US News & World Report, blogs as the "Alpha Consumer". She offers some guidance on tipping in a bad economy.