Teen Talent On The Rise In Texas
Teen Talent On The Rise In Texas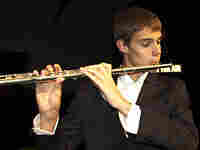 From the Allen Theater at Texas Tech University in Lubbock, Texas, home grown and international kids — ranging in age from nine to seventeen — dig into the classics, producing impressive performances of challenging works by Shostakovich, Prokofiev and Barrios.
Kenneth Renshaw, 14, was practically destined to play music. Both of his parents are musicians and music is always heard in his house.
"I knew I wanted to play violin when I was around two, but my parents made me wait until I was four to start," he says.
Practice time for Renshaw involves an unusual amount of concentration.
"Usually when I practice, my dad will be teaching guitar on the floor below me, and my mom will be teaching piano or rehearsing with an opera singer in the next room," he explains.
Renshaw, a Jack Kent Cooke Young Artist, plays "Subito," by Witold Lutoslawski, accompanied by pianist Christopher O'Riley.
Nine-year-old Roberto Granados' musical life began on a battery-operated electric guitar purchased from Toys 'R Us.
"I used to put on Jimi Hendrix and strum along to Purple Haze," he recalls. By the time he was six, it was clear Granados had an unusual amount of talent and drive, so his parents enrolled him in classical guitar lessons. He started studying flamenco two years later and now plays a variety of styles. He also writes blues, classical and flamenco music.
Granados especially enjoys volunteering in his community by performing for residents of local retirement homes.
He performs "Andante religioso" and "Allegro solemne" from La Catedral by Augustín Barrios Mangoré.
When she's not playing the piano, 13-year-old Grace Cheon can usually be found engaging in any one of a number of sports.
"I play tennis, soccer, golf, basketball and softball," she says. "I just love sports and I love competing."
Although naturally athletic, Cheon seems to have a knack for injuring herself.
"I try not to get too banged up because when my body is in pain you can hear it when I play the piano," she says. "My teacher is always telling me to be extra careful — especially so that I don't injure my fingers."
Cheon is motivated to keep her fingers healthy because in addition to the piano, she enjoys playing the guitar and is the first chair clarinet in her school band.
She plays the scherzo from the Sonata No. 2, Op. 14, by Sergei Prokofiev.
Cellist Gemma Nam hails from Seoul, Korea, but attends the Walnut Hill School in Massachusetts, a prestigious boarding school for the arts. It was difficult for Nam when she first came to the U.S. two years ago.
"I had a hard time learning how to get by on my own," she explains. "If I needed to go somewhere, rather than being able to ask my mom for a ride, I had to learn how to arrange transportation for myself."
Nam used to get really nervous performing for an audience, but a recent revelation has changed that.
"I was giving a concert at my school," she says, "and for the first time it hit me that the audience was on my team, and even if I made a mistake they were still on my team. When I realized that, I started to really enjoy myself."
Nam performs the opening movement of the Piano Concerto No. 1 by Dmitri Shostakovich, accompanied by Christopher O'Riley.
Flutist Tristan Plaut has a simple philosophy he applies to every area of his life: "If you're not going to try your hardest at something there's no point in doing it at all."
He credits his former golf coach for inspiring in him the drive to reach his potential.
"We used to practice after school with drills for hours and hours, and I'd get mad at him because he worked me so hard," recalls Plaut. "Pretty soon, though, I realized how much my game had improved." In fact, Plaut has become such a top-notch golf player that he recently was invited to compete in a high level tournament in Mexico.
Plaut's drive applies to his flute studies as well, but what he loves most about playing the flute is the sense of calm it gives him.
Plaut doesn't plan to pursue music professionally — he thinks he may want to go into medicine — but he's sure the flute will always be a part of his life. He plays the third movement of a sonatina by Eldin Burton, accompanied by Christopher O'Riley.