New Voices From South Asia Share Hope, Concerns
New Voices From South Asia Share Hope, Concerns
Courtesy of Mehreen Jabbar
Jabbar On The Web
Faleiro On The Web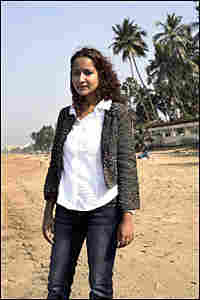 India and Pakistan have fought three wars since they were divided after achieving independence from Britain in 1947, and their relations have been marked by mutual mistrust. Several years of peacemaking were derailed last month when militants, who India alleges were backed by Pakistan, launched attacks in Mumbai, killing more than 160 people.
A new generation of Indians and Pakistanis are now dealing with that fragile relationship. Many of them, like Sonia Faleiro, a 31-year-old Indian novelist and journalist, and Pakistani filmmaker Mehreen Jabbar, 37, who lives in New York, have traveled to each other's countries, but say they understand why mistrust persists.
"I think the tragedy and the irony of the current state of our relationship is that they are not the other — and I would hope that they would not see us as the other because we have a shared past," Faleiro tells NPR's Melissa Block. "I think there are so many tragic stories on either side and that has naturally left scars ... passed down like a heritage piece through the generations."
Jabbar says because of the two countries' poor relations, travel between them has not been easy despite their proximity. She says she made her first Indian friend when she moved to New York.
"But the shared history is there ... and it, I think, has been manifested now with Indian films being allowed to be shown in Pakistan for the first time in almost four decades and they are doing phenomenally well in the cinemas," Jabbar tells Block. "What I feel when I went to India with my film is there is, even now, some kind of, I don't know if it's ignorance, but maybe a lack of understanding about what is Pakistan."
Jabbar acknowledges, however, that Pakistan is itself still trying to figure out its identity.
"We are a nation of four provinces, many languages, and I think, sometimes, Islam or a religion is not enough to keep a nation together," she says. "There has to be something more. And I hope we find that something more."
Faleiro is more optimistic about her country, pointing to India's booming economy. She warns, however, of religious divisions.
"We are in a good place right now and what we need to maintain is security and stability, and ensure that our country does not get polarized on religious lines because we really have to prove that we have moved beyond that," Faleiro says.