A Wonderful Life? Not In Every Holiday Classic
A Wonderful Life? Not In Every Holiday Classic
It's inevitable: Someone's going to make you watch It's a Wonderful Life again this year. And possibly Home Alone.
But remember, there are antidotes to the annual dose of saccharine and schmaltz: Home for the Holidays tops my Web editor's list of favored remedies.
Mostly, these are films that, though they're not "holiday movies" per se, feature some pretty timeless scenes set at the holidays.
And as with Home for the Holidays, many of them — including this year's Four Christmases, Nothing Like the Holidays and A Christmas Tale — involve some pretty serious family dysfunction. Because let's face it, that's a holiday tradition as venerable as the tinsel and the trimmings, right?
Herewith, a few personal favorites, old and new, in no particular order:
A Less-Than-Merry Christmas In 'St. Louis'
Meet Me In St. Louis, 1944
Director: Vincente Minnelli
When carolers sing "Have Yourself a Merry Little Christmas," it all sounds warm and cuddly and Yuletide bright. But do you remember the context when Judy Garland introduced that song?

The year was 1903, the St. Louis World's Fair was about to open, and the four Smith daughters were preparing for a move to New York — a move that none of them wanted even to think about.

Esther (Garland) was trying to cheer up her little sister Tootie (Margaret O'Brien), but her face says everything you need to know about how the family was feeling.
Of Love And Sharp Edges: 'Edward Scissorhands'
Edward Scissorhands, 1990
Director: Tim Burton
Edward (Johnny Depp) wants desperately to fit in with his adoptive family (Dianne Wiest, Winona Ryder), but those blades on his hands keep making a mess of his every attempt.

On Christmas Eve, he comes close to bridging the distance — but when a jealous boyfriend startles him, there's a slip.
A Holiday With A 'Catch'
Catch Me If You Can, 2002
Director: Steven Spielberg
Rating: PG-13
The true story of '60s con artist Frank Abagnale Jr., who cashed millions in bad checks in more than two dozen countries between the ages of 16 and 19, is mostly pretty lighthearted.

But the Christmas Eve scene where Frank (Leonardo DiCaprio) gives the police the slip — only to learn that his family has moved on — is a real heartbreaker.
Saving 'Tommy' From The Eternal Grave (And Christmas)
Tommy, 1975
Director: Ken Russell
For his big-screen rethink of The Who's rock opera about a "deaf, dumb and blind kid," director Ken Russell looked for the most normal, everyday, family-friendly events to subvert.

For "Tommy Can You Hear Me" — the song in which Tommy's mom (Ann-Margret) and stepfather (Oliver Reed) try to deal with their traumatized tot's self-inflicted affliction — he chose a gift-giving party on Christmas morning.
The Night Santa Came, And Went, In 'Gremlins'
Gremlins, 1984
Director: Joe Dante
Joe Dante's horror-comedy is set entirely at Christmastime, so there are plenty of scenes to choose from — gremlins in a blender, gremlins in the department store, gremlins watching Snow White at the local movie palace.

There's plenty that's fun, plenty that's silly. But as an exercise in holiday macabre, Kate's story about the Christmas she learned the truth about Santa is tops.
Bernie's High-Class (But Admittedly Low-Brow) Comedy
Love Actually, 2003
Director: Richard Curtis
Rating: R
OK, this one's cheating — it's a scene deleted from the movie — but it's pretty wonderful.

Remember that by this point, Emma Thompson's character has discovered that her husband is flirting with an office worker. Life at home is growing difficult, and in this scene, had it been in the film, we'd have learned that things at their young son's school are rough, too.
A 'Christmas Tale' With A Dark Twist Or Two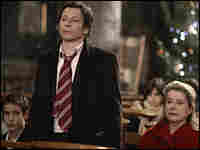 A Christmas Tale, 2008
(Un Conte De Noel)
Director: Arnaud Desplechin
This one's brand new, and in French — and "dysfunctional" is way too mild a term to describe the family on which it centers.

Let's go with "pathological" for the Vuillard clan — for any clan, in fact, in which a dying but still gorgeous mom (Catherine Deneuve) would say to the family's black sheep (Mathieu Amalric) that she ... well, you should probably hear for yourself.