Dinosaur Dads Cared For Young, Researchers Say
Dinosaur Dads Cared For Young, Researchers Say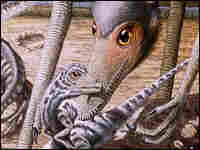 It could very well be that some of the fiercest, meat-eating dinosaurs were also attentive, caring dads.
That's the conclusion from scientists who have been studying dinosaur eggs and the bones of dinosaurs found next to, or in some cases on top of, dinosaur egg clutches.
Paleontologist David Varricchio of Montana State University says he thinks many of those nest-sitters were males. His evidence is based partly on what scientists know about modern birds, the descendents of dinosaurs.
Varricchio measured the mass of egg material in dinosaur clutches and compared it to the mass of the dinosaurs that were found with the eggs. It showed that among some species of dinosaurs — Oviraptor, Troodon and Citipati — the mass of the clutches was very big compared to the size of the parent.
Varricchio then looked for other egg-laying animals where egg mass is high compared to parent body size — and came up with ostriches, emus, kiwis and several other kinds of birds. And among all of these modern birds, the male is the primary caretaker; he broods the eggs and cares for the young.
This may be rather indirect evidence. But writing in this week's issue of the journal Science, Varricchio also notes that the dinosaur bones found at these egg sites lacked something called "medullary bone." Female animals that lay eggs grow medullary bone as a source of calcium to make eggs. If the egg-sitting dinosaurs lacked medullary bone, they were likely males.
So why would the guys take over after the female laid the eggs? Varricchio speculates that if a female is laying a lot of very big eggs, "It could occupy days or even weeks. So you kind of think there's a trade-off. If she's going to continue to lay eggs, she probably wants to keep feeding."
So the male would take over protecting the nest and brooding the eggs, he suggests.
Many biologists consider birds to be modern versions of dinosaurs. Yale University ornithologist Richard Prum says the new research shows that even bird behavior has links that go back over 100 million years.
"What I really love about it is that these are representatives of the most ferocious and terrifying lineage of animals that ever was, right? Including close relatives of T. Rex and company," says Prum. "So it's really ironic to me that these macho, bipedal meat-eaters were good dads."