The Little Rascals: A Refresher On The Rules Of Life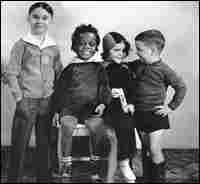 Courtesy Genius Products and RHI Entertainment
Here's a musical and cultural quiz: What links the bands The Rascals, Spanky and Our Gang, Weezer, and Buckwheat Zydeco?
They all took their professional names from the Our Gang series of the '20s and '30s, America's most enduring movie shorts.
Repackaging TV shows and movies has been one of Hollywood's most successful ventures. The DVD box set manages to make the ephemeral nature of broadcasts into a trophy.
I'm possessed by this subject at the moment, not only because I watched The Little Rascals in Our Gang on TV every day growing up, but also because the imprint of that old series was deepened when an enormous DVD box set arrived at the office.
I started watching its eight discs start to finish — 80 movies in all, or nearly 24 hours, not counting the special features or the three silent episodes at the end.
And I say it was time well spent. This DVD is an excellent refresher course on the rules of life.
Rule No. 1: Never skip school by pretending to be sick. If you do you'll lose out, because the teacher has special plans for the day.
Rule No. 2: Stay away from castor oil, Limburger cheese and mush.
Rule No. 3: If you and your pal Chubby go ahead and climb aboard the working locomotive — even after your dad, the engineer, warned you to stay off — and Hobo Joe jumps onboard, watch out! There's trouble ahead. Hobo Joe is crazy! He'll put the train in high speed reverse and jump off. And then, when the locomotive goes forward, your friend Farina will get caught in the tracks, and you'll run over him.
Rule No. 4: The bully is always standing right behind you the moment you gloat about escaping from him.
Rule No. 5: A pretty blond teacher always has a heart of gold.
There are other useful lessons to be learned from Our Gang. While I haven't had a chance to use all of these lessons yet in my life, I believe in them. I can't help it.
Written by men who grew up at the end of the 19th century for audiences in the '20s and '30s, and then shown relentlessly in the '50s, these films were far ahead of their time.
Our Gang was always an integrated group, though some ridiculous racial stereotyping came through a few times. Farina, Stymie and Buckwheat wore clownish clothes, while little Cotton and later Buckwheat got singled out, and each was morphed into a monkey in turn.
When he was a young man, Our Gang creator Hal Roach knew the real Mark Twain. Roach brought the spirit of Huck Finn and the runaway slave Jim to his timeless stories. I learned that from the DVD package.
Oh, and there's one more rule I almost forgot: An escaped monkey will always — always — run amok.