ABC Anchor Robin Roberts on Keys to Success
ABC Anchor Robin Roberts on Keys to Success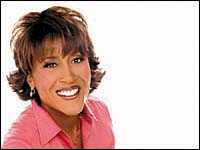 Robin Roberts, co-anchor of ABC's Good Morning America, has just released new book called From the Heart: Seven Rules to Live By. She talks to Farai Chideya about her love of sports, her career in broadcasting, and her work on Good Morning America.
Robin Robert's seven rules, adapted from From the Heart: Seven Rules to Live By.
Position yourself to take the shot. I'm a big believer that you have to put yourself in position for good things to happen to you.
Dream big, but focus small. Keep your eye on what you can do
If at first you don't succeed, dive back in.
Never play the race, gender, or any other card. Give people the benefit of the doubt. My folks never let any of their children use gender or race as an excuse for not achieving something.
Venture outside your comfort zone. You've got to leave yourself open to the hidden opportunities of life.
Focus on the solution, not the problem. Most people waste so much time on a problem, they don't have any energy left to focus on the solution.
Keep faith, family, and friends close to your heart.