Tourists Flock To Quake-Ravaged Region Of China
Tourists Flock To Quake-Ravaged Region Of China
The first of a three-part series.
More In The Series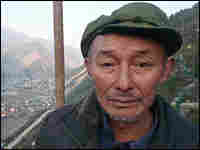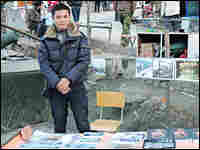 In Depth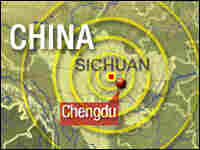 The scene of a massive tragedy in China has become a most unlikely tourist destination.
A powerful earthquake in May left almost 88,000 dead or missing in the southwestern province of Sichuan. Since then, tourists have flocked to the area to pay their respects — and to take photos of the twisted wreckage. Some decry this "earthquake tourism," while others argue it is the way forward for the region.
Each week, for example, thousands of people make pilgrimages to a rickety platform overlooking what remains of the town of Beichuan, where 15,000 people are known to have died and are still entombed in the rubble. The local government sealed off this county seat, its ruins left standing as a memorial to the cruel power of nature.
Photo Ops Among Ruin
"I want a picture for a memento," says a woman who asks to be identified by her surname, Wen. She had climbed over the railings in her black stilettos to pose for a photo against a backdrop of desolation and heartbreak. "I'm taking the pictures home to show my family."
Wen traveled 120 miles to Beichuan with 300 colleagues from an insurance company. Some are jostling for the best position to take pictures of themselves with the ruined city in the background. Others light incense sticks in a makeshift shrine.
The government hopes visitors like Wen will stimulate the economy here. It is spending $2.9 billion on tourism to Beichuan, including building a national earthquake museum and quake-relief training center. Local officials say they hope tourism will account for 20 percent of the county's future GDP, up from 8 percent before the earthquake.
Best Way To Honor Dead?
But the ruined town will remain as it is — with corpses left untouched under the wreckage — as a memorial. For many, like American teacher Randy Simon, seeing the devastation wreaked by nature is a sobering, emotional experience.
"All my students live in places like this," says Simon, who has worked in Sichuan for seven years. "I feel like I've come to pay my respects to my family in a way."
Simon feels ambivalent about the future plans for Beichuan.
"As a Westerner, I would not like to think about that being my hometown," he says. "I don't know enough about the culture to understand their reasons for wanting to turn this into a park. Maybe it is the best way to honor them and respect them."
Selling Grief To Survive
The hilly path up to an observation post is lined with stalls selling before-and-after pictures of Beichuan and DVDs of footage shot after the earthquake. All the stalls are manned by disaster victims. Some have even set up televisions showing the footage — shots of themselves or people like themselves — covered in blood, weeping, cradling the bodies of dead family members. They may be selling their grief, but above all, they are finding ways to survive.
"The disaster is already in the past," says 26-year-old stallholder Bai Shang. "People now have to stand up and face their lives."
Bai is a natural showman, whose easy patter about the destroyed city gathers a crowd. He is from Beichuan, and he lost his house in the earthquake. He gestures to a photo of a bench, a couple of chairs and a plastic basin titled "All that was left from my house." Then he admits the photo was actually of his friend's house.
Bai welcomes the tourists, saying at least he can earn a couple of dollars a day.
"Before, I was working in a factory making toys for export to the U.S. But the global financial crisis made our company go bankrupt and send its 2,000 workers home," he says. "It's not easy to find work now, so we've come back here to try to cover our living expenses."
Amid the hubbub, one old man stands silent, his head craned over the platform. Wang Guangxi is looking down at his house, his restaurant and the place where his 46-year-old son died. He says he feels comfort among the hundreds of strangers here.
"Every day I come to take a look, I feel pain in my heart because I lost my son here. It's a good thing people come to show their condolences to those who passed away," Wang says.
Tourism Touted As Potential Economic Boon
Farther down the hillside, Mike Liu and his wife pick their way across the mud to peer through an 8-foot-high fence. They are pointing at the pile of concrete rubble on the other side — all that remains of Beichuan high school. A thousand students died here; some bodies are still buried under the rubble.
Liu works in the travel industry — he calls himself a disaster victim, too, but his wife's designer handbag and his fur-lined cardigan are obvious signs of wealth.
"Beichuan's prospects are very good," he says, "and getting better all the time." His attitude is a model of Sichuanese pragmatism: The earthquake was a catastrophe, he says, but it will be good for the tourist industry.