Intrigue and Uproar: 'Don Carlo' at La Scala
Stuart Neill's Big Night
One of tenor Stuart Neill's first star turns as La Scala's Don Carlo came in his first act duet with Rodrigo (baritone Dalibor Jenis), as the two characters vow to fight together against oppression.
La Scala on World of Opera -- 'Don Carlo'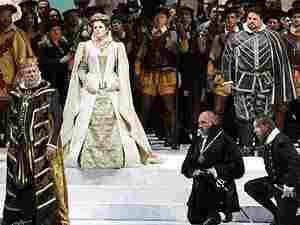 For centuries, the world's opera houses have provided vivid drama both onstage and behind the scenes, and Milan's La Scala continued that tradition with the recent, controversial opening of its 2008-2009 season.
La Scala may well be the most historic venue in opera, and its annual, opening night productions have long drawn the attention of opera lovers around the world. As it turned out La Scala's 2008 opener, a production of Giuseppe Verdi's Don Carlo, had a double dose of backstage intrigue.
First, the production nearly didn't happen at all. Ongoing disputes with musicians' unions led to threats of a strike, which was averted just days before the scheduled premiere.
Then, just as that uproar was subsiding, tenor Giuseppe Filianoti was abruptly pulled from the title role, to be replaced by the relatively unheralded American singer Stuart Neill. Naturally, rumors swirled. But a La Scala spokesman said the last minute switch was a straightforward, artistic decision. Filianoti, it was said, had made mistakes in rehearsals, and Neill was simply "in better shape" as opening night approached.
The decision caused quite a stir. Filianoti at first said he had been "stabbed in the back" by management. Later, the spurned tenor was more magnanimous. He wished the theater well, and even showed up in the opening night audience — at least for the first act.
Not surprisingly, the production got a mixed response. Neill's performance was received sympathetically, at least from the expensive, lower level seats. La Scala's vaunted "loggionisti," highly vocal fans who occupy the theater's upper balconies, were less enthusiastic. Still, their booing seemed aimed mainly at the conductor, Daniele Gatti, whom many seemed to blame for the unexpected swap of tenors.
As for Neill, his reaction to the event was concise: "Rough crowd," he said.
On World of Opera, host Lisa Simeone brings us the entire show — "loggionisti" included — and it's hot off the presses, recorded in Milan on December 7, 2008.
See the previous edition of World of Opera or the full archive
The Story of 'Don Carlo'
WHO'S WHO?
Stuart Neill ................... Don Carlo
Ferruccio Furlanetto ....... Philip II
Fiorenza Cedolins ......... Elisbeth
Dolora Zajick .................... Eboli
Dalibor Jenis ................... Rodrigo
Julia Borchert ....... Heavenly Voice
Darla Di Censo ................. Page
La Scala Orchestra and Chorus
Daniele Gatti, conductor
The opera is based on a play by Friederich Schiller. The original version, premiered in Paris in 1867, was a five-act score, sung in French. Since then, it's been presented in a number of different configurations — sometimes in Italian and sometimes with the first act omitted. The version performed at La Scala incorporates both of those changes; it's the four-act version, sung in Italian.
The action takes place in the mid-1500s — the time of the Spanish Inquisition. Don Carlo, the son of Spain's King Phillip II, has returned home after a visit to France. He had briefly been engaged to a French woman, Elisabeth. The marriage was arranged, and aimed at cementing a peace agreement between the two countries. Still, Carlo and Elisabeth actually did fall in love. Then, Carlo's father Phillip decided it would be better if he married Elisabeth himself.
As ACT ONE opens, Carlo is at a Spanish monastery, near the grave of his grandfather, King Charles V. Monks come from the chapel. One of them approaches, and Carlo is shaken by this monk's resemblance to the dead King Charles.
Carlo is joined by his old friend Rodrigo. He has just returned from Flanders, where the people are suffering under Spanish rule. Carlo admits to Rodrigo that he's in love with Elisabeth, who by now has married Phillip and is the Queen of Spain. Rodrigo warns Carlo that being in love with his stepmother could prove dangerous, to say the least. He urges Carlo to come with him to Flanders, to aid the struggle for freedom and liberty.
The second scene takes place outside the monastery. Elisabeth is there with Rodrigo, and the beautiful Princess Eboli. Rodrigo gives Elisabeth a letter from her mother. In secret, he also hands her a note from Carlo. She reads it while Rodrigo talks with Eboli — who thinks that Carlo might just be in love with her. Quietly, Rodrigo tells Elisabeth that Carlo is suffering great emotional pain, and King Phillip is ignoring him. Carlo, Rodrigo says, would like an audience with Elisabeth.
Elisabeth agrees to see him, and when he arrives we see that it's not Eboli that Carlo wants. It's clear that he and Elisabeth are still in love. But they're in an untenable situation. Elisabeth is strong enough to endure the pain of their dilemma, and carry on. Carlo is not. He breaks down, and openly declares his love for Elisabeth. Sarcastically, she tells Carlo that if he truly wants them to be together, all he has to do is murder his father, the king, and take his stepmother to the altar.
Carlos is distraught and leaves, and Phillip then arrives with Rodrigo in tow. As they talk, Phillip is clearly taken with Rodrigo's loyalty and honesty. Taking him aside, the king confides in Rodrigo that he's suspicious of Elisabeth — and Phillip tactfully asks Rodrigo to keep an eye on her. He also gives Rodrigo a stern warning to stay clear of the Grand Inquisator.
ACT TWO begins at night, in the Queen's Gardens in Madrid. Carlo is there because he received an anonymous note from a woman, asking to meet with him, at midnight. Princess Eboli appears, with her face hidden by a veil. She wrongly believes that Carlo is in love with her — not knowing his feelings for Elisabeth. Carlo assumes he's meeting Elisabeth, and tells her he loves her. Eboli is overjoyed, and removes the veil. Carlo's reaction tells Eboli that she's been mistaken for someone else, and she also figures out who it is. Carlo admits that he's in love with his stepmother, the queen.
Eboli is shocked, and becomes more angry when Rodrigo shows up and tries to defend Carlo. Rodrigo tells Eboli that Carlo has been troubled, and that he's raving — she shouldn't take what he says seriously. Eboli doesn't buy it. When she threatens to tell Phillip, Rodrigo promptly draws a knife, to kill her.
Then, reconsidering, Rodrigo puts the knife away and says he has another plan to save Carlo. Rodrigo asks Carlo if he has any secret papers - maybe something pertaining to their mutual cause, the freedom of Flanders. Carlo produces some documents and Rodrigo takes them, supposedly to keep them safe.
The scene changes to a grand square. People have gathered to honor King Phillip, and for an auto-da-fe — the ceremonial burning of heretics by the Inquisition. But the proceedings are interrupted by Carlo. He presents six rebels from Flanders to Phillip, and they ask for the king's mercy. When Phillip turns them down, Carlo shocks the crowd by drawing his sword. Rodrigo steps between father and son, and tells Carlo to stand down. Feeling betrayed, Carlo gives up his sword to Rodrigo and is led away to prison. Phillip immediately makes Rodrigo a Duke. With Carlo gone, the auto-da-fe continues, and heretics are burned alive as an angelic voice is heard from heaven.
As ACT THREE begins, Phillip reflects on his problems. He knows Elisabeth doesn't really love him. Worse, he suspects that Elisabeth is in love with someone else. And Carlo is still in prison, charged with treason.
Phillip also has another concern - the Grand Inquisitor. He's old, and blind, but he's the most fearsome power in Spain. Philip needs advice about the rebellious Carlo. He could let his son escape into exile — or he could have him killed. The Inquisitor thinks Carlo should die.
Then Phillip gets more bad news. The Inquisitor says Rodrigo is also a traitor. He may be the king's best companion, but deep down, he's a bigger traitor than Carlo. When Phillip refuses to hand Rodrigo over, the Inquisitor says even a king can suffer at the hands of the Inquisition.
When Phillip is alone again, Elisabeth enters, saying someone has stolen her jewelry box. She's surprised, and afraid, when Phillip produces the box from his own desk. When she refuses to unlock it, he breaks it open. Inside, there's a picture of Carlo. Phillip accuses his wife of adultery, and she faints. Rodrigo and Eboli are called in to assist her.
In a dramatic quartet, Rodrigo decides to take the situation into his own hands; Elisabeth feels abandoned by everyone; Eboli shows puzzling signs of guilt; and Phillip realizes that he has accused Elisabeth falsely.
The men leave, and Eboli makes a confession. She was jealous over Carlo's love for Elisabeth, so she stole the jewelry box, and gave it to Phillip. And that's not all. She also admits to being the king's mistress. Elisabeth gives her a choice between exile and a convent. Eboli decides on the convent — but first, she'll try to rescue Carlo.
ACT FOUR begins in Carlo's prison cell. Rodrigo has come to visit, and tells Carlo not to worry. Rodrigo has allowed himself to be found holding the secret papers that Carlo gave him in back Act Two. This implicates Rodrigo as the traitor, and now the King will want Rodrigo's head instead of Carlo's. As they talk, two men enter quietly. One is with the Inquisition, and the other carries a rifle. From the shadows, Rodrigo is shot.
Phillip enters with Princess Eboli and the Grand Inquisitor. He means to free Carlo. Finding Rodrigo dead, he sadly leans over the body and sings, "Who will give this man back to me?"
A mob assembles outside, demanding the traitorous Carlo be turned over to them. When the Inquisitor emerges, they turn quiet with fear. In the confusion, and at Eboli's urging, Carlo escapes.
The final scene is back at the monastery, where the opera began. Carlo is there, hiding near the tomb of King Charles V, his grandfather. Before he died, Rodrigo told Carlo that Elisabeth would meet him there, and she does. The two are saying goodbye when Phillip enters, with the Inquisitor and several of his officials. Phillip decides he must do his duty. He's about to hand Carlo over to the Inquisition to meet a grisly fate.
The comes the opera's famous — some would say infamous — ending. Some synopses keep it simple, saying something like, "the gates of the cloister open and Don Carlo is drawn inside to safety." The opera's libretto is more problematic. It says the mysterious monk from Act One appears — the one that resembled the dead Charles V — and that this time, he actually is Charles V. Then, the presumably dead king takes Carlo into the cloister, as everyone watches in amazement.
In some stagings, the actual identity of Carlo's rescuer is left uncertain. Other productions have reverted to the ending of the original play — in which Carlo is led off to his death by the Inquisition.
So, what actually happens? Ultimately, it probably doesn't matter. The unfortunate Carlo has faced nearly every inner conflict imaginable — between love and loyalty, duty and honor. friendship and family, faith and personal ideals. Unlike the other characters, Carlo never resigns himself to reality. He finds no way to cope with the complicated world that surrounds him. So, as the opera ends, the music lets us know that one way or another, Carlo is leaving that world altogether.