Combating The Threat Of Somali Piracy
Somali pirates in the waters off the Horn of Africa nation have hijacked more than 40 ships this year, demanding — and often getting — millions of dollars in ransom. The European Union has launched an effort to protect ships in the area.
MELISSA BLOCK, host:
We're going now to a warship that's patrolling for Somali pirates in the Gulf of Aden. This year, pirates have attacked more than 100 ships. They've hijacked more than 40. The pirates demand millions of dollars to release the vessels. Currently, they're holding more than a dozen ships. And, while a multinational force is patrolling the area, the Gulf of Aden is vast. NPR's Corey Flintoff is out on a French warship in the Gulf of Aden. And Corey, what can you tell us about where you are right now?
COREY FLINTOFF: Well, not very much, to tell you the truth, because of French security requirements. I can tell you that we're in the Gulf of Aden and that we're patrolling along the northern coast of Somalia, which, of course, is home to many bases for these pirates and their mother ships.
BLOCK: And as we mentioned, you are out on this huge body of water. What can you tell from being on this French warship about just how hard it is to try to stop these pirate attacks?
FLINTOFF: Well, it gives you a good idea about why it's so difficult to protect ships in this area. It is an enormous body of water. The captain told me the other day that there are about 27 merchant ships passing through the Gulf right now. We've been cruising for two days and so far, we've seen none of them. In fact, we haven't seen any kind of big ship. We have seen a couple of small vessels, one was a fishing vessel and the other was a trading boat that travels between Somalia and Yemen.
BLOCK: Uh huh. So, you haven't seen any of these other multinational forces that are out patrolling either?
FLINTOFF: No, we haven't. This French frigate is part of a European Union task force that's out here. It's composed of a lot of ships from various European nations. But we haven't been in direct visual contact with any of them at this point.
BLOCK: Would that French frigate that you're on be in a position to help out if another boat were to spot pirates or were attacked?
FLINTOFF: Well, Captain Beatriz, the commander of this vessel, told me that you'd have to be very lucky to be close enough to a ship that was in distress to be able to get there in time to help them. Some of the warships in this group have helicopters on board, and they are able to get to the scene of a pirate attack fairly quickly, sometimes in as little as 10 to 20 minutes. But these pirates act very quickly, you know. They pull alongside a merchant vessel, aim their weapons and take the crew hostage as quickly as they can. So, even that amount of time might not be enough to prevent an attack or a successful seizure of a ship.
BLOCK: The United Nations has also authorized suppressing piracy by any means necessary, even if that means attacking on land after pirates return there. Did the sailors have any thoughts on that?
FLINTOFF: They are interpreting that as meaning attacks on land and no officers that I've talked to have been very enthusiastic about it. They say the trouble with making an attack on land is that you endanger civilians and you - there's also the risk of the pirates taking reprisals against the hostages that they're already having. So in general, the officers that I've talked to don't like the idea of shore attacks.
BLOCK: OK. We've been talking with NPR's Corey Flintoff. He's on a French warship in the Gulf of Aden.
NPR transcripts are created on a rush deadline by Verb8tm, Inc., an NPR contractor, and produced using a proprietary transcription process developed with NPR. This text may not be in its final form and may be updated or revised in the future. Accuracy and availability may vary. The authoritative record of NPR's programming is the audio record.
Fleet Patrols For Pirates Off Somali Coast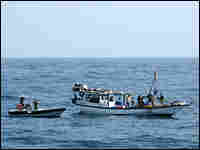 The French navy is part of a European Union effort to protect ships from pirates in the Gulf of Aden, one of the most heavily traveled waterways in the world. The coast of northern Somalia is particularly notorious for pirates, who have hijacked dozens of vessels this year.
The French frigate Premier Maitre L'Her is patrolling this area. The ship's captain, Lt. Cmdr. Alexis Beatrix, says his mission is, in part, a matter of "showing the flag" — letting the pirates know that there's a strong naval presence in the gulf.
From the deck of a warship, it's clear how difficult that task is. The Gulf of Aden is a vast body of water, where it's possible to travel for days without seeing another vessel.
Pirates typically operate from mother ships disguised as ordinary fishing crafts. When a vulnerable merchant ship comes in sight, the pirates launch fast boats that can overtake a slow-moving freighter or tanker in minutes.
The pirates are armed with automatic rifles and rocket-propelled grenades, so it's relatively easy to threaten a merchant ship at close quarters. Few merchant captains are willing to resist attackers who could do significant damage to their vessels and crews.
Once a crew has been captured, foreign warships can no longer attack, for fear that the hostages will be killed. Beatrix says his job is to prevent such takeovers before they happen.
On Friday, the P.M. L'Her encountered two small vessels that fit the profile of a pirate boat. They were Arab-style dhows, the kind of boat that's generally used for fishing and trading between northern Somalia and the coast of Yemen.
The crew went to battle stations, manning the ship's guns as they tried to contact each boat by radio. Each time, the ship's executive officer used a loudspeaker to call out to the vessel in English: "This is a European warship. We request you to stop immediately."
When the vessel kept going, the frigate launched a Zodiac inflatable boat to approach the boat and board it. As the Zodiac neared the boat, the executive officer used his loudspeaker to assure the people on board the craft that this was "a friendly approach."
Beatrix stresses that his strategy is to approach strange vessels in a non-threatening way, so as to minimize the risk to civilians. Both vessels stopped when they saw the Zodiac and allowed the French team to come alongside. The officer in charge of the boarding party said the first boat turned out to be legitimate trader, carrying fuel that it delivers to fishermen at sea. The second was a fishing vessel.
The next mission of the P.M. L'Her — which is based in the east African port of Djibouti — will be to escort a freighter chartered by the World Food Program to deliver food and other humanitarian aid to a port in the northern Somali region of Puntland, which is known as a pirate stronghold. Slow-moving freighters are especially vulnerable to pirate attacks, so the frigate will put a commando team on board the merchant vessel and escort it to its destination.
Although the U.N. Security Council has passed a resolution authorizing foreign naval vessels to use "all necessary means" to thwart pirate attacks, military officers in the region are reluctant to attack pirate bases on shore, because of the potential danger to civilians.
Beatrix, like many other commanders, says the real solution is to restore the rule of law in Somalia, so that Somalis themselves can police their own coastline and pursue the criminals in coastal towns. Given that Somalia is a state without a functioning government, the captain acknowledges that could take a long time.