Little Big Town On Mountain Stage
Little Big Town in Concert on Mountain Stage - 12/22/2008
Set List
"I'm With the Band"
"Good As Gone"
"Novocain"
"Stay"
"Bring It on Home"
"Boondocks"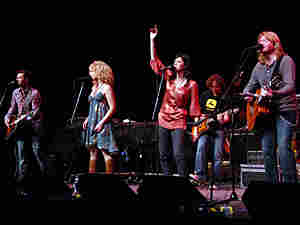 The country vocal quartet Little Big Town had just released its album A Place to Land when it recorded this Mountain Stage performance in December 2007. The group had just opened for George Strait at a nearby stadium the evening before.
One year later, its members are about to embark on their first nationwide headlining tour.
The group's debut recording, The Road to Here, spawned three smash country hits ("I'm With the Band," "Bring It on Home" and "Boondocks," all included here), sending the band on the fast track to stardom. It's just received its third Grammy nomination, this time for Best Country Collaboration with Vocal for the song "Life in a Northern Town," featuring country stars Jake Owen and Sugarland.
Accompanied by an instrumental band, Little Big Town features vocalists Karen Fairchild, Phillip Sweet, Kimberly Schlapman and Jimi Westbrook.