Post-Quake Tourism Plan Divides Chinese Villagers
The second of a three-part series.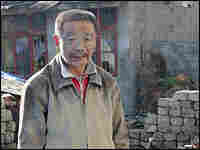 In Depth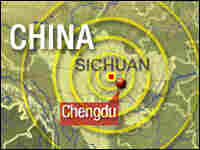 The story of Mao'ershi in China's southwestern Sichuan province is a tale of two villages: Although it's officially one village, it is divided by geography and a bureaucratic decision. It is also a tale of how China is struggling to deal with the aftermath of the deadly earthquake in May, which left 5 million people homeless.
Mao'ershi village is split into five districts. Cement mixers churn in districts one and two, where reconstruction has already begun, beyond a red banner proclaiming "40 days of struggle." The goal is for villagers to move into their new houses before Chinese New Year — which begins on Jan. 26 in 2009. But this is no ordinary settlement.
"This will be Beichuan county's premier village," says its party secretary, Zhang Lanqing.
Showcase For Qiang Minority
The government has decided districts one and two will become a model village renamed Jina Qiang, which will showcase the culture of the Qiang people, an ethnic group closely related to Tibetans.
As a result, local officials have designed a new village consisting entirely of blocky, fortress-like brick houses that have some Qiang characteristics. The government is helping build them — even for resident Wang Xiaoqi, who says he didn't need one.
"After the earthquake, there was only a little damage to my house, so I just wanted to repair it," Wang says. "But there was a new plan to develop tourism, so the government tore down all the houses in the village."
At least three other families say their homes survived the quake largely undamaged and were subsequently razed for the tourism project.
But village government officials say the buildings were too badly damaged to be left standing. They stress that all residents were consulted about the new plan, and more than 70 percent agreed.
Some Villagers Reap Benefits
In his roadside tent restaurant, 55-year-old Wang dishes up lunch for construction workers. He is watching his cash flow with concern: He has to pay for a new house, which he says will cost about $30,000.
Wang will receive a $2,000 government subsidy and an interest-free loan of $7,000. He will have to borrow the remaining $21,000 with interest, and he doesn't know how he'll pay it back. His old lifestyle — subsistence farming — has disappeared, the farming land swallowed by the new village and new roads.
Now, the locals are counting on income from tourism. The new village is not just an engineering project, but social engineering, transforming farmers into service-industry workers. Despite money worries, Wang says most of his neighbors are pleased.
"Generally speaking, the villagers are quite satisfied about the reconstruction. The new houses are better and more solid," Wang says. "Some people are unhappy because their old houses were bigger. But if tourism develops here, we will have better opportunities."
Others Not As Lucky
Farther up the valley in the village's third district, the situation is very different, according to residents warming themselves around a fire in an old oil drum. The model Qiang village doesn't include this settlement, or the fourth and fifth districts.
That means no Qiang-style houses, no blueprint for a new village. Each family is rebuilding by themselves. Some say they have had their loans capped at $7,000. But bricks have tripled in price since the quake, and some people, such as 52-year-old Xia Xueqi, have been refused loans.
"I'm too old, and my children are too young," he explains. "So the bank is scared I wouldn't be able to pay the money back. I've got no plans to rebuild my house yet; I don't have the money."
On a recent day, Xia is heaving sacks of cement for another, richer neighbor to make money. It's dirty, heavy work, and a gray mask of cement dust plasters his wrinkled face. He is one of the most vulnerable: a widower and a single parent with two daughters, ages 7 and 16. The family is still living in an emergency tent, and Xia can't afford to send his older daughter to school anymore.
Villagers such as Xia can't help feeling neglected. As he speaks, others chime in to agree with him.
"We really hoped the government would take responsibility for us, like the first district, but the plan doesn't reach here," he says. "Of course it's not fair. Their treatment is far better."
Official: Government Policy 'Same For Everyone'
Wang, the farmer-turned-restaurant owner, and Xia provide a case study in contrasts: one whose slightly damaged house was demolished by the local government, forcing him to take out big loans for a new house; the other whose house was destroyed by the quake, but who has been unable to borrow the money he needs to start rebuilding.
One estimate is that the show village alone will cost $2.9 million — a huge amount of money on one hamlet, when so many are in desperate need. Nonetheless, Beichuan county's tourism and culture director, Lin Chuan, denies any bias.
"The government's policy on reconstruction is the same for everyone. That village is the first to be built, but the government's subsidies are the same for all," Lin says. "Those residents will have to pay back their loans through their earnings from tourism."
Despite China's economic downturn, local officials are betting domestic tourists will come here to support the quake-hit zone. Officials have made hard choices in their bid to develop tourism, and the differing fates of these two men show the human costs of those decisions.